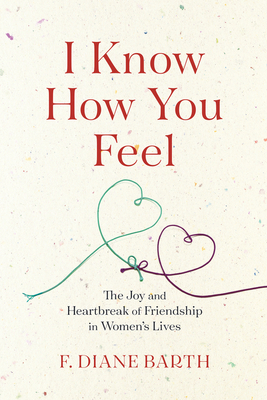 I Know How You Feel
The Joy and Heartbreak of Friendship in Women's Lives
Hardcover

* Individual store prices may vary.
Other Editions of This Title:
Digital Audiobook (2/5/2018)
MP3 CD (2/6/2018)
Compact Disc (2/6/2018)
Compact Disc (2/6/2018)
Description
An expert's rich exploration of the intense, complicated landscape of women's friendships.

"Do I have enough friends?" "Why did my friendship end?" and "What makes a good friendship work?"

These are questions that F. Diane Barth, a psychotherapist widely recognized for her expertise in women's relationships, fields all the time. In I Know How You Feel, she draws out engaging stories from a lively and diverse cast of women, many of whom speak about feelings they haven't shared before. She explores how life changes affect women's friendships in subtle and not-so-subtle ways. Interweaving examples from classic women's literature to chick flicks, she provides grounded advice on how to manage betrayal and rejection, how to deal with a narcissistic or bossy friend, what to do when your best friend and your family don't get along, how to let go of a friendship that has stopped working, and much more. A timely, empathetic guide for women in their twenties to their sixties and beyond.
Praise For I Know How You Feel: The Joy and Heartbreak of Friendship in Women's Lives…
"In I Know How You Feel Diane Barth refuses easy assumptions and definitions about women's friendships. The result is a gorgeous and vital exploration of the landscape of women's desire, capacity, and essential need for connection with other women." –Victoria Redel, author of Before Everything    "I Know How You Feel is a smart, perceptive, and complex study of women's friendships and how they enhance, color in, and shape our lives." –Susan Shapiro, author of Unhooked and Lighting Up   "Diane Barth's chapter on loss and rejection is incredibly insightful. I found it especially helpful in thinking about past relationships that didn't seem to have a proper end." –Gabourey Sidibe, author of This Is Just My Face   "Diane Barth helps us honor the richness, the joys, the everyday sustenance women's friendships give, as well as the complications and difficulties these intimate friendships can engender. A smart guide for women of all ages." –Susie Orbach, author of Fat Is a Feminist Issue and co-author of Between Women "Draw[ing] on interviews with diverse women to examine the 'magical, meaningful, and surprisingly difficult connections they make with friends' . . . a friendly, supportive guide for navigating relationships."–Kirkus Reviews "A lively and compassionate guide that defines what is meant by 'friend' in the 21st century . . . Barth's engaging guide introduces readers to many types of women and ideas and contains timely advice for anyone who wants to befriend a woman."–Library Journal "A compelling look at the ways in which women bond, Barth's book is eye-opening and essential reading for anyone trying to build—or maintain—a strong social circle."–BookPage   —
Harper, 9780544870277, 256pp.
Publication Date: February 6, 2018
About the Author
F. DIANE BARTH has worked as a psychotherapist in New York City for more than three decades. Her much-read Psychology Today blog is often on the subject of women's friendships.
1. I Know How You Feel begins with the idea that women's friendships develop and change over time. Do you have lifelong friends or know women who do? Have those friendships changed over time, and if so, how?
2. What about friendships made "in context" – at work, around children, or in an activity group. Do you look for different things in a friend now than you did when you were younger? Can you discuss some of the differences in what you are looking for now and what you looked for when you were younger? What do you think about these differences?
3. An entire chapter is devoted to the question of how to define "friendship." Discuss some of the key words used in talking about friendship in this chapter. What other words might you use?
4. What did you think about the discussion of friendships with family members? Do you know some women who are too close to their families? What are the problems that occur when someone is best friends with their spouse, mother, or child? What are some of the benefits? Have you known someone who has suffered as a result of such a bond? What about you? Do you think of your family as friends?
5. Daphne comes home to find her husband and her best friend in bed together. This is a pretty dramatic betrayal by the two people she trusted the most in her life, of course, but betrayals come in all sizes and shapes. What do you think about how Daphne handled the experience? Did you empathize with her pain, or did you have other thoughts and feelings about what had happened? Have you ever been betrayed by a friend, or do you know of a situation like Daphne's?
6. Some women also talk about their feelings of shame, sadness, and guilt when they were the one who did the hurting. Facebook and other social media have made it easier to find some of those old friends and make apologies for having hurt them. Is there a way that Daphne's friend Jennifer could repair the relationship, if she wanted to? And if she tried, how do you think Daphne should respond?
7. What do you think about the relationship between Alysha and her best friend Sherry, who disappeared while Alysha was ill? Is it really okay for a friend to abandon a friend in need, no matter what the reason? What do you think about Sherry's explanation of why she had to pull away? And what about the new friendship between Alysha and Debra? What did you think about how that friendship changed after the illness?
8. A number of books in recent years have explored some of the hidden and more difficult aspects of women's friendships. For instance, have you read Elena Ferrante's by now legendary portrait of a friendship between women over time? Did it resonate with some of your own experiences of friendship? Are there other portraits of women's friendships in literature that have stuck with you?
9. What do you think about the issue of competition between women friends? Do you agree that this is a normal and healthy part of friendship that needs to be accepted and integrated more openly into women's relationships? Or do you think that women need to be supportive of one another and to find ways to diminish competitive feelings between friends?
10. Illness, death, moves, and life changes like divorce and job opportunities can lead to loss in friendship. What do you think about the death of a friend leaving a "hole in your heart"? How do you explain this kind of loss?
11. What did you think about the sections on "What You Can Do"? What, if any, solutions did you find particularly useful? What did you not find useful at all? What did you think about the idea that there were several possible answers, and that no single approach or solution was offered?
12. The book deals with several controversial issues, including sexual tension between women. How did you feel about those discussions? What do you think about the idea that women feel sexual attraction to other women as part of their ongoing experience?
13. Do you think that men and women can be friends with one another? What are some of the complications that can occur in such a relationship? What did you think about the discussion of that difficulty?
14. Although there is not a specific chapter on this issue, many readers have said that after reading I Know How You Feel they were no longer convinced that men's friendships were so very different from women's. What do you think: do men and women have different kinds of friendships? If so, how would you describe those differences? If not, what do you think keeps the myth of difference so powerful?
15. Has the book given you a different perspective on women's friendships? Can you discuss?
or
Not Currently Available for Direct Purchase