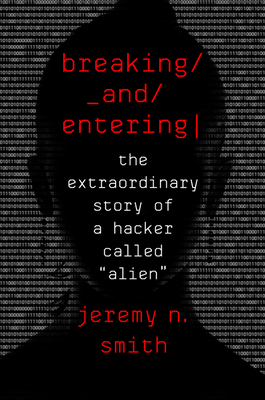 Breaking And Entering
The Extraordinary Story of a Hacker Called "Alien"
Hardcover

* Individual store prices may vary.
Other Editions of This Title:
Digital Audiobook (1/7/2019)
Paperback (1/14/2020)
Description
This taut, true thriller dives into a dark world that touches us all, as seen through the brilliant, breakneck career of an extraordinary hacker—a woman known only as Alien.

When she arrived at MIT in the 1990s, Alien was quickly drawn to the school's tradition of high-risk physical trespassing: the original "hacking." Within a year, one of her hallmates was dead and two others were arraigned. Alien's adventures were only just beginning.

After a stint at the storied, secretive Los Alamos National Laboratory, Alien was recruited by a top cybersecurity firm where she deployed her cache of virtual weapons—and the trespassing and social engineering talents she had developed while "hacking" at MIT. The company tested its clients' security by every means possible—not just coding, but donning disguises and sneaking past guards and secretaries into the C-suite.

Alien now runs a boutique hacking outfit that caters to some of the world's biggest and most vulnerable institutions—banks, retailers, government agencies. Her work combines devilish charm, old-school deception, and next generation spycraft. In Breaking and Entering, cybersecurity finally gets the rich, character-driven, fast-paced treatment it deserves. 
Praise For Breaking And Entering: The Extraordinary Story of a Hacker Called "Alien"…
A Bookish Must Read for 2019 An Amazon Best Book of the Month Featured on NBC's TODAY and Nightly News   "Smith's writing style…is crisp as he charts the course of Alien's life in a series of vignettes from uncertain undergraduate to successful business owner. The structure works because Smith is a lively storyteller." —The New York Times Book Review "Amusing and cautionary tale."—WORLD Magazine "A fascinating look at hacking and the cybersecurity industry that has evolved. Alien is one bad-ass woman!" —The Missoulian "A book that reads like a fictional thriller while remaining solidly grounded in fact...effortless to read, Breaking and Entering is an engaging cautionary tale of security vulnerabilities and the constant threat of cyber attacks that businesses and institutions face on a daily basis. Knowing that our own personal security hangs in the balance, we can't help but feel glad that "white hat hackers" such as Alien are out there doing their best to stem the tide."—New York Journal of Books "A novelistic tech tale that puts readers on the front lines of cybersecurity. For all whose lives and connections depend on the internet—nearly everyone—this biography of the pseudonymous 'Alien' provides a fast-paced cautionary tale. Jeremy Smith has enough experience as a computer programmer to understand the technicalities of this world, but his storytelling makes it intelligible to general readers; indeed, the narrative is more character-driven than technology-driven.... Smith goes into great detail to demonstrate how Alien could penetrate the security of whomever was employing her, showing how a real criminal would do it, and makes fearfully clear that there is 'no such thing as absolute security in this world, or any definitive and final fixes.' A page-turning real-life thriller, this is the sort of book that may leave readers feeling both invigorated and vulnerable." —Kirkus Reviews (starred review) "A fascinating and riveting account...like an espionage thriller, this account ensnares readers into the high-stakes world of computer security, told through Alien's emergence as a recognized expert in a male-dominate profession." —Library Journal "This riveting book follows Alien as she transforms herself from a young woman up for pretty much any challenge, no matter how dangerous, to a woman who is among the best in the world at what she does. Freelance journalist Smith writes with gusto, giving Alien's story the feel of a novel (or, perhaps, a movie along the lines of 1995's Hackers). The world of hacking and cybersecurity still carries a mystique; only the privileged few are permitted to learn the secrets that lie within the close-knit hacker community. This book opens the gates and invites readers inside." —Booklist "Scintillating.... Alien's mindset and exploits epitomize the spirit of hacking—a dogged perseverance directed at outsmarting and outwitting barriers of any kind.... An unabashedly human and humane portrait of a brilliant hacker." —Gabriella Coleman, author of Hacker, Hoaxer, Whistleblower, Spy   "In Breaking and Entering, Jeremy Smith reveals the human side of cybersecurity. The book covers the vast spectrum of why and how hackers do what they do. A great thriller!" —Paul de Souza
Mariner Books, 9780544903210, 304pp.
Publication Date: January 8, 2019
About the Author
JEREMY N. SMITH has written for the New York Times, the Atlantic, and Discover, among other outlets, and he and his work have been featured by CNN, NPR News, and Wired. A graduate of Harvard College and the University of Montana, he is the author of Growing a Garden City and Epic Measures. He lives in Montana.