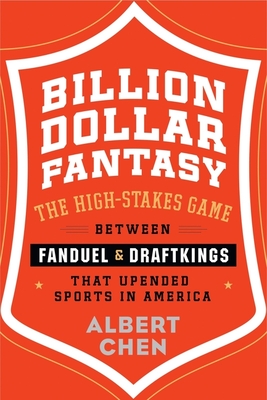 Billion Dollar Fantasy (Hardcover)
The High-Stakes Game Between FanDuel and DraftKings That Upended Sports in America
Houghton Mifflin Harcourt, 9780544911147, 304pp.
Publication Date: September 10, 2019
* Individual store prices may vary.
Description
APPLE BEST BOOK OF THE MONTH SELECTION 
 
"We devoured [this] engrossing account of the battle for supremacy between three fantasy gaming sites. ... Chen flips the script with a character-driven narrative, exposing the people who fueled the industry (not necessarily the folks you'd expect) and what motivated them (not necessarily unadulterated greed). Gamers will find this book impossible to put down, as will anyone who loves a good origin story."—Apple Books, Best of the Month selection
 
"Fans of financial thrillers such as Barbarians at the Gate will be excited by this insider account of the dizzying rise of fantasy sports websites"—Publishers Weekly
 
You've seen the commercials. Here is the untold story behind the clash of billion dollar companies that unleashed an unprecedented advertising war.

From Sports Illustrated's Albert Chen comes the story of two companies whose battle unleashed a carpet bombing of advertising as they sought supremacy in an exploding fantasy sports and gambling market: In a time of gushing venture capital money, FanDuel and DraftKings turned into billion-dollar companies seemingly overnight — then, just as quickly, found themselves the target of FBI and Department of Justice investigations, and facing likely destruction.

Chen tells the story of the improbable individuals behind the saga: An Irishman who knew nothing about American sports. A fantasy geek who felt it was his destiny to change the way fellow nerds watched the games they loved. A conflicted poker player. A mother of three in Scotland.

In a character-driven narrative with excursions into the strange and unexpected, Chen takes us from casinos to board rooms, from Edinburgh to Wall Street to the Vegas Strip, to tell a sprawling and intimate tale of the new world that this group of accidental disruptors helped to create. It's a story of ideas and dreams, about a world of risk, luck, hubris, greed and redemption—a story for our high-stakes times.
About the Author
Albert Chen is a Senior Editor at Sports Illustrated, where he has authored over a dozen cover stories for the magazine and specializes in longform features. He has covered baseball, football, sports business, and gambling. He has also written for Fortune, among other publications, and been featured on CNN, NPR, MLB Network, and ESPN Radio. He has a bachelor's degree from Yale University and lives in New York City with his wife and son.
Praise For Billion Dollar Fantasy: The High-Stakes Game Between FanDuel and DraftKings That Upended Sports in America…
 "We devoured Sports Illustrated writer Albert Chen's engrossing account of the battle for supremacy between three fantasy gaming sites. Billion Dollar Fantasy centers on the late 2000s, when FanDuel led the pack in the emerging, theoretically legal market of online sports gambling, with DraftKings and DraftStreet hot on its heels. Chen flips the script with a character-driven narrative, exposing the people who fueled the industry (not necessarily the folks you'd expect) and what motivated them (not necessarily unadulterated greed). Gamers will find this book impossible to put down, as will anyone who loves a good origin story."
 —APPLE, BEST BOOK OF THE MONTH SELECTION
 
 "In this entertaining debut, Sports Illustrated editor Chen examines a decade of online fantasy sports…Fans of financial thrillers such as Barbarians at the Gate will be excited by this insider account of the dizzying rise of fantasy sports websites."
 —PUBLISHERS WEEKLY, STARRED REVIEW
 
"The battle between FanDuel and DraftKings to dominate the sports betting market is not a complicated story. The two startups have done essentially the same things over the past decade to stay alive, spending hundreds of millions of dollars on advertising and making deals with sports leagues . . . There's a bit more to the story, of course, conveyed with vividness and reportorial precision by Albert Chen, a Sports Illustrated writer and editor, in 'Billion Dollar Fantasy.' The two companies, Mr. Chen notes, have given sports fandom a new, and lucrative, dimension . . . "
 —WALL STREET JOURNAL 
 
 "The battle for online fantasy sports supremacy was a roller-coaster ride for its two contenders: DraftKings and FanDuel. Chen (senior editor, Sports Illustrated) captures the action in this energetic and entertaining account of DraftKings CEO Jason Robins, FanDuel CEO Nigel Eccles, and chief marketing executive Lesley Eccles, and how these three visionaries turned online gaming ideas into two unicorn (assets of $1 billion) companies. Chen presents lively stories, especially of Lesley Eccles, who succeeded in an overwhelmingly male-dominated arena. In addition, the book is laced with profiles of the DraftKings and FanDuel partners, venture capitalists, and higher rollers who gambled heavily." 
 —LIBRARY JOURNAL

"A rollicking, riveting account of an improbable startup war that invaded all of our living rooms and helped pave the way for sports gambling across America. Magic/Bird, Red Sox/Yankees, Federer/Nadal . . . FanDuel/DraftKings: The same rivalry dynamics that fuel such passion and tribalism in sports come alive in this addictive account that's about so much more than the business of sports. For anyone who's ever had a billion dollar fantasy, it's both an inspirational story—and a cautionary tale."
—L. JON WERTHEIM, 60 Minutes correspondent and coauthor of New York Times bestseller Scorecasting

"When FanDuel and DraftKings exploded onto the scene, I thought "I'm not sure one of these businesses can work. How possibly can two?" In Billion Dollar Fantasy, Albert Chen answers all the questions about the strange intersection of sports, gambling, startups and fast money that spawned these improbable companies. A great read."
—PETER KING, NBC Sports

"Highly engrossing . . . A wild ride . . . A conventional business story, this is not. In Billion Dollar Fantasy, Albert Chen tells the story of how the improbable multi-billion-dollar daily fantasy sports industry was born with unforgettable set pieces, everywhere from Edinburgh to Vegas to, hell, even Harry Potter World. Readers are taken inside the psyches of the major players as the top companies took off, nearly crashed after the government and public turned against them and gained new life, thanks to the recent Supreme Court decision that legalized sports betting in America. This book is like fantasy sports: once you start, you won't stop."
—SEAN GREGORY, senior correspondent, Time

"Billion Dollar Fantasy is The Social Network, only more scandalous. Albert Chen has written an exhilarating, cinematic account of the rapid rise and fall and rise again of a pair of odds-defying unicorns, and the bootstrapping impresarios who created them. This book deserves to be devoured by gamblers and entrepreneurs, in poker rooms and boardrooms alike."
—BEN REITER, New York Times-bestselling author of Astroball and senior writer, Sports Illustrated

"Suggest this both to fantasy-sports participants and to readers of Ben Mezrich's The Accidental Billionaires (2009), about the founding and growth of Facebook."
—BOOKLIST