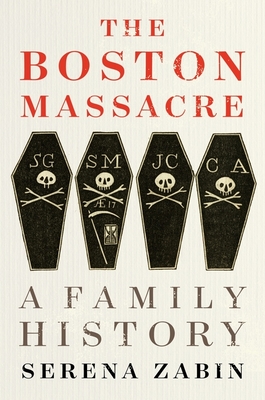 The Boston Massacre
A Family History
Hardcover

* Individual store prices may vary.
Description
A dramatic untold 'people's history' of the storied event that helped trigger the American Revolution

The story of the Boston Massacre—when on a late winter evening in 1770, British soldiers shot five local men to death—is familiar to generations. But from the very beginning, many accounts have obscured a fascinating truth: the Massacre arose from conflicts that were as personal as they were political. 
  
Professor Serena Zabin draws on original sources and lively stories to follow British troops as they are dispatched from Ireland to Boston in 1768 to subdue the increasingly rebellious colonists. And she reveals a forgotten world hidden in plain sight: the many regimental wives and children who accompanied these armies. We see these families jostling with Bostonians for living space, finding common cause in the search for a lost child, trading barbs and and sharing baptisms. Becoming, in other words, neighbors. When soldiers shot unarmed citizens in the street, it was these intensely human, now broken bonds that fueled what quickly became a bitterly fought American Revolution. 
 
Serena Zabin's The Boston Massacre delivers an indelible new slant on iconic American Revolutionary history. 
Praise For The Boston Massacre: A Family History…
"A lively gem of a book that expands our view of early-modern military life, pre-revolutionary Boston, and, in turn, the American Revolution."–Washington Post

"A well-written, thoroughly interesting addition to the social history of the American Colonies."–Kirkus Reviews

"Penetrating and lyrical, Zabin's Boston Massacre offers startling revelations on every page. To read this "family history" is to tread the cobbled streets of eighteenth-century British America, peering into shops, barracks, bedrooms, and government halls along the way. Zabin's account ripples far beyond Boston on the vexed night of March 5, 1770, offering fresh understandings of the cause of liberty and its consequences. The American Revolution—indeed, early urban warfare itself—will never look the same." 
​–Jane Kamensky, Trumbull Professor of American History, Harvard University, and author of A Revolution in Color:  The World of John Singleton Copley
 
"An intimate, complex, and moving picture of the friendships and family connections between Britons and Bostonians, in the throes of revolutionary change. Zabin's eloquent account illuminates the ways in which the actors in this nation-making and empire-breaking drama experienced the rupture and transformation of the world they made together." 
–Peter S. Onuf, author, with Annette Gordon-Reed, of Most Blessed of the Patriarchs:  Thomas Jefferson and the Empire of the Imagination
Houghton Mifflin Harcourt, 9780544911154, 320pp.
Publication Date: February 18, 2020
About the Author
SERENA ZABIN is a professor of history and director of the American studies program at Carleton College. She is the author of Dangerous Economies: Status and Commerce in Imperial New York and The New York Conspiracy Trials of 1741: Daniel Horsmanden's Journal of the Proceedings. She is also the codesigner of a forthcoming serious video game about the Boston Massacre, Witness to the Revolution.