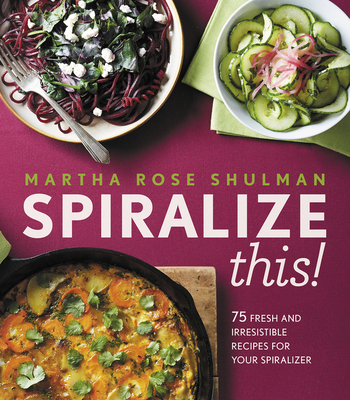 Spiralize This! (Hardcover)
75 Fresh and Delicious Recipes for Your Spiralizer
Houghton Mifflin, 9780544913677, 192pp.
Publication Date: November 1, 2016
* Individual store prices may vary.
Description
The latest craze in healthy cooking is encouraging home cooks to put a spin on it With a serving of spiralized zucchini noodles packing less than a quarter of the calories and carbs found in a serving of spaghetti, now pasta-lovers can enjoy their favorite dishes with a smile. And in Spiralize This Martha Rose Shulman proves just how versatile spiralizers can be: from egg dishes to salads, pickles to gratins, tacos to desserts, this book includes recipes for meat-eaters and vegetarians, with approximately 30 percent vegan recipes. Martha draws on her expertise in vegetable-focused cooking and love of flavors from Mediterranean, Asian, and Latin cuisines to deliver 75 cravable recipes: warming soups and noodle bowls, like Pho with Turnip Noodles and Beets; hearty dishes like Brown Rice Bowls with Miso-Glazed Salmon; seasonal gems like Winter Squash Lasagna. The book features a beautiful full-color photo with every recipe and includes tips on how to use various spiralizers and how to store leftover vegetable noodles, ribbons, and rice. With the basics of spiralizing covered and the array of fresh, enticing dishes to try, this is the book that spiralizer fanatics have been waiting for.