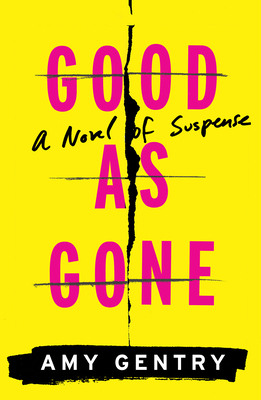 Good as Gone (Hardcover)
A Novel of Suspense
Houghton Mifflin Harcourt, 9780544920958, 288pp.
Publication Date: July 26, 2016
Other Editions of This Title:
Paperback (1/3/2017)
Compact Disc (1/3/2017)
MP3 CD (1/3/2017)
Compact Disc (7/26/2016)
MP3 CD (7/26/2016)
Compact Disc (7/26/2016)
* Individual store prices may vary.
Description
Thirteen-year-old Julie Whitaker was kidnapped from her bedroom in the middle of the night, witnessed only by her younger sister. Her family was shattered, but managed to stick together, hoping against hope that Julie is still alive. And then one night: the doorbell rings. A young woman who appears to be Julie is finally, miraculously, home safe. The family is ecstatic—but Anna, Julie's mother, has whispers of doubts.  She hates to face them. She cannot avoid them. When she is contacted by a former detective turned private eye, she begins a torturous search for the truth about the woman she desperately hopes is her daughter.
 
Propulsive and suspenseful, Good as Gone will appeal to fans of Gone Girl and The Girl on the Train, and keep readers guessing until the final pages.
About the Author
AMY GENTRY is the author of Good as Gone, a New York Times Notable Book, and Last Woman Standing. She is also a book reviewer and essayist whose work has appeared in numerous outlets, including the Chicago Tribune, Salon, the Paris Review, the Los Angeles Review of Books, and the Austin Chronicle. She holds a PhD in English from the University of Chicago and lives in Austin, Texas.
Praise For Good as Gone: A Novel of Suspense…
A New York Times Book Review "Editors' Choice"
An Entertainment Weekly "Must List" Pick
A Refinery 29 "Suspense Thriller You'll Love"
A "Skimm Reads" Pick

"[One] of the most anticipated summer thrillers...Gentry's novel isn't primarily about the version of the self that comes from a name and a family of origin; instead, it draws our attention to the self that's forged from sheer survival, and from the clarifying call to vengeance." —The New York Times Book Review

"Gentry's debut novel is more than worthy of the analogy [to Gillian Flynn's 2012 smash, Gone Girl]…it's so gripping you might start to question your own family's past." —Entertainment Weekly

"So much about this novel is fresh and insightful and decidedly not like every other thriller…Good as Gone ranks as an outstanding debut, well worth reading. This is no mere Gone Girl wannabe." —The Dallas Morning News

"A mother, a daughter, a zealot, an investigator, a family, a stripper, and more than a few survivors lay the riveting groundwork, but it's Amy Gentry's realistic portrayals of victims and their families that set Good as Gone apart from other page-turning crime dramas...The end result is a true 'novel of suspense': a book that's hard to put down not only because of our investment in the plot, but also because of our investment in the lives of the complicated characters." —The Austin Chronicle

"Compelling and emotionally nuanced." —The Seattle Times

"This smart, crisply written thriller begins with a 'ripped from the headlines' premise, but broadens to explore themes ranging from the mothering of daughters to the inwardness of suburban life and the lure of the megachurch in an era of consumerism." —The Minneapolis Star Tribune

 "Both a mother-daughter and a family-under-fire story, Good as Gone is laden with confused identities and a thrumming plot. Amy Gentry's debut also holds a mirror up to the myriad ways rape culture is perpetuated." —Bustle

"Good as Gone…confirms the entrance of a powerful new voice in the world of crime fiction—Gentry knows crime fiction as a critic and as a writer, and brings her experiences with her for a novel that is as playful and self-aware in its structure as it is responsible in its themes."—MysteryPeople

"If you love a measured and thought-provoking novel of suspense, with one eye on character study and one eye on a city's conflicted culture, this might just be the next book for you."  —Crime by the Book

"Debut novelist Gentry delivers on genre expectations with crisp, unobtrusive writing and well-executed plot twists." —Kirkus Reviews

"Clever perspective changes give Gentry's debut building suspense...Fans of Paula Hawkin's The Girl on the Train will enjoy the shifting points of view and the complex female characters, and those who liked Samantha Hunt's Mr. Splitfoot will appreciate the seedy characters and haunting theme of childhood vulnerability...Gentry's depiction of a family working through immense suffering will connect with many readers." —Booklist

"Gentry's treatment is effective, with a swift-moving narrative and an interesting backstory for Julie and engrossing insight into Anna's ambivalence and grief...A good pick for fans of mysteries, thrillers, and family drama." —Library Journal

"Amy Gentry has burst out of the gate with a monumentally intelligent, wily thriller about identity, vengeance, and homecoming that introduces readers to some of the most badass female characters on the shelf. Good as Gone is a river that shoots the reader deftly through rapids, over cliffs, past eerie vistas to a shocking, elegant and well-earned ending. Do yourself a favor: jump in."—Kelly Luce, author of Pull Me Under
 
"A bracing, scarily honest look at what it means to be female—and to be a daughter, sister, wife, mother—wrapped up in a vicious thriller. Gentry's ambitious debut will satisfy fans of Gone Girl, The Girl With the Dragon Tattoo, and The Killing."—Merritt Tierce, author of Love Me Back
 
"Unreliability sets the tone for this page-turner as it begins with a kidnapping where the only witness is the victim's a ten-year-old sister. Pitting innocence and earnestness against criminality and manipulation, this novel, with its deft twists and turns, will leave you haunted long after the final page...You need to read this book. Like a literary James Patterson, this is a not-to-miss debut."—Steph Opitz, book reviewer, Marie Claire
 
 
When Julie comes home, Anna never expresses joy or even relief. Why? What do you think she is feeling, judging by the clues she drops in her first-person narrative?
At the end of the Prologue, Anna says, "And that…is the story of how I lost my daughter—both of my daughters—everything, everything—in a single night." How does Julie's kidnapping cause Anna to lose her other daughter, Jane? What else does Anna lose that night? Who do you think is responsible for these losses?
On page 44, Anna thinks, "I've already had the worst thing happen to me that can ever happen to a parent. And now, in a sense, Julie has too. It's something we share." What does she mean by this? What about her experiences and Julie's experiences draw them together? Why doesn't she feel the same closeness through loss with Jane?
Anna only begins to express the tiniest bit of suspicion when she realizes Julie must have lied to the police about the last time she was raped—after all, she's just barely pregnant, so the last time clearly wasn't six months ago. When did you begin to suspect that something about her story was off? What did you think when Julie first went for her hidden cell phone and ID stash?
When Anna speaks to Carol, Julie's therapist, she tries to get information in hopes it will shed some light on Julie's lies. Carol explains that Julie's "not sure how to relate to her family anymore, or to anyone who hasn't been through what she has." (p.66) Do you think a person needs to have been through your exact experiences to understand them? How do you feel about Anna's implicit accusation that Carol doesn't understand her need because Carol isn't a parent?
Julie literally takes a walk in Jane's shoes when she sneaks out in the first chapter we read from her point of view. How else does Julie use physical objects to help her become someone else throughout the story? What do you make of Karen's "trophies"?
The idea of keeping your children "safe" is a recurring theme in the novel. But what does "safety" really mean when a stranger can come into your home while you're sleeping and take your child away? Do you think Julie and Jane were ever really safe—are any of us? Discuss how else ideas about "safety" appear in the book.
On page 214, Anna says, "You're my daughter" to the girl she believes is an impostor posing as her actual daughter, Julie. Describe what is happening in this moment. What do you imagine is happening inside Anna that prompts her to say this? What do you think it means to her in this moment?
What does Julie like about Charlie as they become friends? What ultimately lead her to fall into his trap? Did you find it believable that throughout the unfolding of their relationship—and "the Plan"—no one, not her own parents, not her friend Candyce or her parents, had any clue what was going on? Why or why not?
Julie concludes her telling, finally, of her side of the story with language that parallels Anna's in the Prologue. Why do you think the author made this choice? How else are the two women's experiences similar?
On page 267, Anna muses about "the good people" of the world, like Tom and Julie. Consider her thoughts in the context of Esther's story about trying to be good, but not happy. What is the significance of that lesson for the characters in the novel?
Anna has a habit of using other people's words, citing quotations from great writers rather than revealing herself with her own words. "All I have is other people's words," she confesses. What does she mean? (pg 274) Compare this to Julie's habit of using other people's identities. How else do people in the novel hide behind something, or otherwise protect themselves from being vulnerable?
In so many ways, this novel is the story of Anna and Julie—but what about Tom and Jane? They remain close to one another, but Anna is so distant from them both. Even Julie has become distant from Jane—so young Jane recalls in the Prologue—before she disappears. Discuss the ways in which the novel's title "Good as Gone" applies to this story.
or
Not Currently Available for Direct Purchase