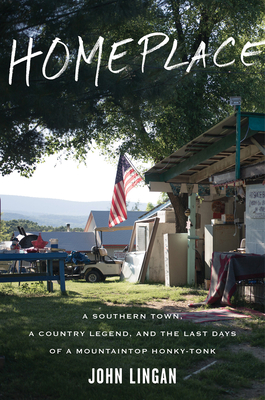 Homeplace
A Southern Town, a Country Legend, and the Last Days of a Mountaintop Honky-Tonk
Hardcover

* Individual store prices may vary.
Other Editions of This Title:
Compact Disc (8/14/2018)
Description
An intimate account of country music, social change, and a vanishing way of life as a Shenandoah town collides with the twenty-first century

Winchester, Virginia is an emblematic American town. When John Lingan first traveled there, it was to seek out Jim McCoy: local honky-tonk owner and the DJ who first gave airtime to a brassy-voiced singer known as Patsy Cline, setting her on a course for fame that outlasted her tragically short life. What Lingan found was a town in the midst of an identity crisis.
 
As the U.S. economy and American culture have transformed in recent decades, the ground under centuries-old social codes has shifted, throwing old folkways into chaos. Homeplace teases apart the tangle of class, race, and family origin that still defines the town, and illuminates questions that now dominate our national conversation—about how we move into the future without pretending our past doesn't exist, about what we salvage and what we leave behind. Lingan writes in "penetrating, soulful ways about the intersection between place and personality, individual and collective, spirit and song."*
 
* Leslie Jamison, author of The Empathy Exams
Praise For Homeplace: A Southern Town, a Country Legend, and the Last Days of a Mountaintop Honky-Tonk…
"You end Homeplace thinking that every American town could use a book like this one written about it; every town could afford to be this lovingly but critically seen. Like many of the best country songs, the book is sentimental in a way that makes you wonder why sentiment is such a dirty word." 
—New York Times Book Review

"Those who pick up Homeplace will find a means to escape the ugly partisan drone of their TV programs, to take refuge in something quieter and more measured on the page. In these times when we learn about the Other more often through derogatory memes than through in-depth reporting, an immersive experience like Homeplace feels exponentially more revelatory than any nonfiction you're likely to have read since the dawn of Twitter. It's a refreshing shift in intellectual gears, and the details about rural American living that Lingan spotlights, even when they depict this society as substantially less than perfect, combine to make for a poignant but satisfying whole: a trip through Winchester, at least as seen, heard, smelled and felt through Lingan's pen, is just plain good for the soul...By searching with an open heart, and writing with a frank honesty, Lingan manages an impossible feat: to make Homeplace an antidote to the divisive anger of today's America and to the unrealistic nostalgia that our current despairs inspire."-- PopMatters

"John Lingan writes in penetrating, soulful ways about the intersection between place and personality, individual and collective, spirit and song."
—Leslie Jamison, author of The Empathy Exams and The Recovering
 
"Homeplace is a magnificent work, new school journalism with old school heart. The combination of intellectual integrity and human curiosity, human compassion, is as intoxicating as it is educational. This is a book in service of place and time, which is to say, literature."
—Rick Bass, author of The Traveling Feast
 
"Some of the best histories of America are those told in miniature: a forgotten landmark, a local celebrity, a small town in transition. John Lingan's Homeplace is all of that and more: a perfectly rendered elegy for an iconic music venue that tells a much larger story: how our dreams, desperation and hope become transcribed in the landscape that surrounds us and embedded in the songs we pass down as our legacy."
—Colin Dickey, author of Ghostland
 
"John Lingan writes movingly about places that are just up the road yet seem impossibly distant to many. Homeplace offers a vivid portrait of a disappearing America, and a hope that the barriers that divide us can be breached by listening to other people's stories."
—Peter Manseau, author of The Apparitionists
 
"John Lingan is an old-school storyteller, wringing humor and heart out of every little interaction. But Homeplace is so much more than a good yarn. Lingan looks into every crack in the American myth, turning the story of one town over until the beauty, tragedy and contradictions of a huge chunk of national identity become clear. The reporting here is indefatigable, the prose full of music. Lingan achieves that highest, hardest goal of writing: he makes us see the world fresh."
—Lucas Mann, author of Captive Audience

"Brimming with humanity, here is a lyrical elegy to a declining Shenandoah honky-tonk, to the country singer who drove us "Crazy" and broke our hearts, and to the slow, inexorable erosions of modernity in one little mountaintop town. John Lingan writes with feeling, a sharp eye, and an open heart."
—Brantley Hargrove, author of The Man Who Caught the Storm
Houghton Mifflin Harcourt, 9780544932531, 272pp.
Publication Date: July 17, 2018
About the Author
JOHN LINGAN has written for the Oxford American, Atlantic, BuzzFeed, the Baffler, Slate, the New Republic, the Virginia Quarterly Review, and many other places. He lives in Maryland. He spent four years reporting and writing Homeplace, his first book.