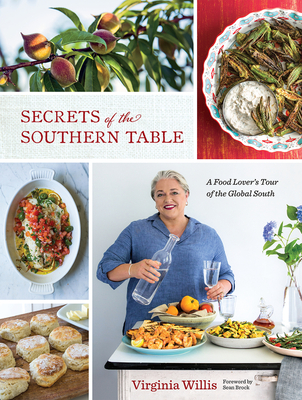 Secrets Of The Southern Table
A Food Lover's Tour of the Global South
Hardcover

* Individual store prices may vary.
Description
Recipes and stories of the modern South

In Secrets of the Southern Table, award-winning chef and cookbook author Virginia Willis takes you on a tour of today's South—a region rich in history and cultural diversity. With her signature charm and wit, Virginia shares many well-known Southern recipes like Pimento Cheese Tomato Herb Pie and "Cathead" Biscuits, but also some surprising revelations drawn from the area's many global influences, like Catfish Tacos with Avocado Crema, Mississippi-Style Char Siu Pork Tenderloin, and Greek Okra and Tomatoes. In addition to the recipes, Virginia profiles some of the diverse chefs, farmers, and other culinary influencers who are shaping contemporary Southern cuisine. Together, these stories and the delicious recipes that accompany them celebrate the rich and ever-evolving heritage of Southern cooking.
Praise For Secrets Of The Southern Table: A Food Lover's Tour of the Global South…
"Secrets of the Southern Table examines the possibilities of a fully realized welcome table where everyone adds some wisdom to the skillet. The future of Southern foodways is exhilarating, intriguing, and insanely delicious." —From the Foreword by Sean Brock, executive chef and partner, Husk, McCrady's, and Minero   "Secrets of the Southern Table is an ode to a regional cuisine rich in culture and soul. Virginia writes in a rhythmic cadence and lilting musicality that makes me want to read each word out loud. She takes us along on culinary field trips and proves that her beloved South is composed of a multiplicity of good people. Together at the table, they build a framework out of vibrant patches that, once united, result in a culinary quilt filled with reverence for the past, marvel of the present, and excitement for the future of Southern foodways." —Sandra A. Gutierrez, award-winning author of The New Southern-Latino Table   "Arepas inspired by a Venezuelan stand in an Atlanta market where Martin Luther King Jr.'s family shopped; lemon-herb potatoes born of the Greek fishing village of Tarpon Springs, Florida: to hell with that old moonlight and corn pone schtick. Virginia Willis showcases a contemporary South that is dizzily and honestly diverse." —John T. Edge, author, The Potlikker Papers: A Food History of the Modern South   "Secrets of the Southern Table is a masterpiece of discovery and sings with the stories of the diverse South. As always, Virginia's recipes are useful for every home cook, and offer a plateful of Southern comfort with a heaping side of social justice. All this makes for good cooking and reading." —Nathalie Dupree, author, TV personality, and James Beard Award winner of Who's Who of Food & Beverage in America   "Virginia Willis's Secrets of the Southern Table reminds me of a global potluck where everyone brings something and we all feel right at home. In her capable hands, hearts and minds are opened to the people, places, and variegated dishes of a diverse South—a land of classic Southern dishes and regionally sourced ingredients transformed by heady Latin spices, sultry Italian and Greek home cooking, fragrant Southeast Asian street food, and generations-old African American agricultural wisdom." —Toni Tipton-Martin, activist and author of James Beard Award–winning The Jemima Code: Two Centuries of African American Cookbooks   "The South is now and always has been a far more diverse and complex place than any of the stories told about the region acknowledge. If you doubt this, you need only look at what is in our kitchens, both in our homes and restaurants. And what better place to initiate the conversation about what this diversity can mean than at the table. Virginia Willis is a deft and accomplished chef and a remarkable teacher. She's also an observer with a keen eye and open heart. She brings all of this to bear in her deeply researched and beautifully written Secrets of the Southern Table, and we are nourished by it." —Ronni Lundy, James Beard Award–winning author of Victuals: An Appalachian Journey, with Recipes   —
Harvest, 9780544932548, 336pp.
Publication Date: May 1, 2018
About the Author
A popular Southern food authority and writer, VIRGINIA WILLIS is the author of six cookbooks, including the James Beard Award-winning Lighten Up, Y'all. She's an editor-at-large for Southern Living and writes the regular column "Cooking with Virginia" for SouthernKitchen.com, focusing on fresh and seasonal food. She has also been featured in Country Living, House Beautiful, and USA Today. She lives in Atlanta, Georgia. For more information about Virginia, please visit www.virginiawillis.com.