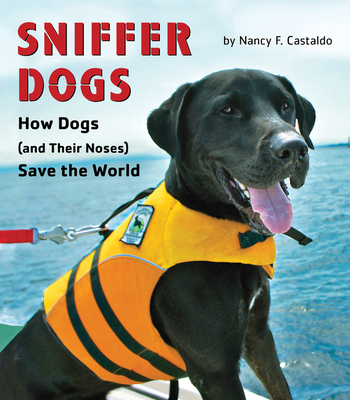 Sniffer Dogs
How Dogs (and Their Noses) Save the World
Paperback

* Individual store prices may vary.
Other Editions of This Title:
Hardcover (7/8/2014)
Description
Anyone who has ever spent time with a dog knows that dogs love sniffing! They sniff out hidden food, dirty socks, and the visitor who comes to the door.  But some dogs work with police officers, soldiers and even scientists to put their "sniffers" to work.  Sniffer dogs make use of the amazing biology behind their noses to protect people from bombs, catch criminals smuggling drugs, or help researchers locate a hard to find snail in a forest.

A dog's nose is so sensitive that if a human could see as well as a dog could smell, we would be able to see the small letters on an eye chart from four (four!) miles away.  Is it any wonder then that dogs can be trained to find missing people in piles of rubble or a certain flower blooming amongst hundreds or thousands of other smells? 
In Sniffer Dogs you will meet many dogs and their handlers and learn all about their jobs. Some of these dogs are raised from birth to detect blood sugar levels in their owners.  Others are rescued from animal shelters and their boisterous personalities help make them excellent sniffer dogs. Featuring a balance between science and social science, Sniffer Dogs will appeal to dog lovers and science lovers alike. 
Praise For Sniffer Dogs: How Dogs (and Their Noses) Save the World…
* "An exemplary presentation of information in a lively, engaging way—readers will be left feeling awe for their canine companions and enthusiasm for their abilities."
—Kirkus, starred review
"Superb coverage of the canine contribution to rescue and safety in both text and illustration."
—VOYA
"A well-organized, thoughtfully written title that celebrates the achievements of these great dogs."
—
School Library Journal
"This fascinating account will leave young readers feeling wonder and gratitude for the gifts of the canine set."
—The Wall Street Journal
"The adventurous element of search and rescue and military duty adds an edge to draw readers unenticed by (or unwilling to be caught with) mere cute puppies."
—Bulletin
HMH Books for Young Readers, 9780544932593, 160pp.
Publication Date: July 11, 2017
About the Author
Nancy Castaldo has been writing about the planet for decades. She's contributed to the Sierra Club Waste Paper, NRDC's Personal Action column, and others. She is the author of many STEM books including,  Sniffer Dogs: How Dogs (and Their Noses) Save the World, Back from The Brink: Saving Animals From Extinction, and Beastly Brains: Exploring How Animals Think, Talk, and Feel. She lives in New York's Hudson Valley. Visit her at nancycastaldo.com, on Twitter @NCastaldoAuthor, and on Instagram @naturespeak.