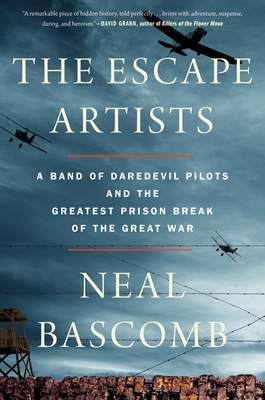 The Escape Artists
A Band of Daredevil Pilots and the Greatest Prison Break of the Great War
Hardcover

* Individual store prices may vary.
Other Editions of This Title:
Digital Audiobook (9/17/2018)
Paperback (9/3/2019)
Description
"Bascomb has unearthed a remarkable piece of hidden history, and told it perfectly. The story brims with adventure, suspense, daring, and heroism."
—David Grann, New York Times bestselling author of Killers of the Flower Moon
Neal Bascomb, New York Times best-selling author, delivers the spellbinding story of the downed Allied airmen who masterminded the remarkably courageous—and ingenious—breakout from Germany's most devilish POW camp
 
In the winter trenches and flak-filled skies of World War I, soldiers and pilots alike might avoid death, only to find themselves imprisoned in Germany's archipelago of POW camps, often in abominable conditions. The most infamous was Holzminden, a land-locked Alcatraz of sorts that housed the most troublesome, escape-prone prisoners. Its commandant was a boorish, hate-filled tyrant named Karl Niemeyer who swore that none should ever leave.
 
Desperate to break out of "Hellminden" and return to the fight, a group of Allied prisoners led by ace pilot (and former Army sapper) David Gray hatch an elaborate escape plan. Their plot demands a risky feat of engineering as well as a bevy of disguises, forged documents, fake walls, and steely resolve. Once beyond the watch towers and round-the-clock patrols, Gray and almost a dozen of his half-starved fellow prisoners must then make a heroic 150 mile dash through enemy-occupied territory towards free Holland.
 
Drawing on never-before-seen memoirs and letters, Neal Bascomb brings this narrative to cinematic life, amid the twilight of the British Empire and the darkest, most savage hours of the fight against Germany. At turns tragic, funny, inspirational, and nail-biting suspenseful, this is the little-known story of the biggest POW breakout of the Great War.  
Praise For The Escape Artists: A Band of Daredevil Pilots and the Greatest Prison Break of the Great War…
"Bascomb has unearthed a remarkable piece of hidden history, and told it perfectly.The story brims with adventure, suspense, daring, and heroism." —David Grann, New York Times bestselling author of Killers of the Flower Moon "Through careful research and unusual insight, Bascomb takes his readers inside not just the terrors of an infamous World War I POW camp but the minds of the men who were determined to think their way out of it. It's riveting reading, but more than that, it's inspiring." —Candice Millard, author of Hero of the Empire "From a master of narrative non-fiction, the amazing and utterly gripping story of the greatest prison escape of the First World War. A ripping yarn—timely and beautifully told." —Alex Kershaw, author of The Longest Winter and The Bedford Boys   "A rousing story of resilience and courage . . . Just when you think there are no more terrific war stories that have gone untold, along comes The Escape Artists. Bascomb has achieved that rare combination of impeccable research and a page-turning narrative." —Tom Clavin, author of Dodge City, Halsey's Typhoon, and The Last Stand of Fox Company (with Bob Drury) "Thrilling, jaw-on-the-floor stuff. . . 'The Great Escape' of WWII remains the best-known POW breakout, but Bascomb brilliantly brings its forgotten forerunner into the light with this fantastic, true-life tale of the prisoners who outwitted their cruel captors at Holzminden, the toughest German camp of them all . . . thanks to Bascomb's intrepid detective work, maybe we should start calling it the Greater Escape." —Alexander Rose, author of Washington's Spies and Men of War   "Don't wait for the movie. You'll feel like you're in one by the second page . . . In the midst of history's cruelest war, a band of Allied POWs brilliantly combined their unique talents, wit, and boundless grit to pull off the greatest breakout of the Great War. Equal parts Downton Abbey, The Great Escape, and The Shawshank Redemption—The Escape Artists is an inspiring tale of humanity's best defeating its worst." —John U. Bacon, author of The Great Halifax Explosion "Paul Brickhill's The Great Escape (1950) is widely considered the best nonfiction book about escapes from wartime prison camps.This gripping new volume gives Brickhill's classic a run for its money . . . Based on extensive research, including documents written by the escapees themselves, the book is intensely detailed and written with a prose style that puts readers right there in the camp with the prisoners: when the prisoners hold their breath, terrified of being discovered in a secret activity, the reader will hold his or her breath, too. In the ever-expanding genre of prison-escape sagas, this one joins the top ranks." —Booklist   "Fast-paced account of a forgotten episode of World War I history . . . Stirring . . . Bascomb's portraits of the principals are affecting . . . Expertly narrated, with just the right level of detail and drama." —Kirkus Reviews (starred review) "Bascomb (Hunting Eichmann) unfurls a cracking good adventure in this —
Mariner Books, 9780544937116, 336pp.
Publication Date: September 18, 2018
About the Author
NEAL BASCOMB is the national award–winning and New York Times best-selling author of The Winter Fortress, Hunting Eichmann, The Perfect Mile,Higher, The Nazi Hunters, and Red Mutiny, among others. A former international journalist, he is a widely recognized speaker on the subject of war and has appeared in a number of documentaries. He lives in Philadelphia. For more information, visit http://nealbascomb.com or find him on Twitter at @nealbascomb.
 
or
Not Currently Available for Direct Purchase