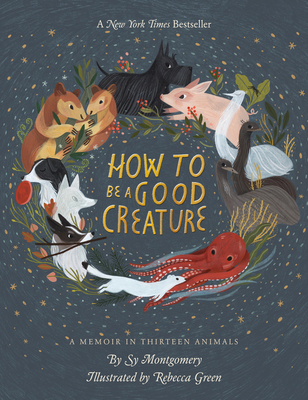 How To Be A Good Creature
A Memoir in Thirteen Animals
Hardcover

* Individual store prices may vary.
Other Editions of This Title:
Digital Audiobook (9/24/2018)
Library Binding, Large Print (10/17/2018)
Compact Disc (9/25/2018)
Compact Disc (9/25/2018)
Compact Disc (9/25/2018)
MP3 CD (9/25/2018)
Description
A New York Times bestseller!

National Book Award finalist Sy Montgomery reflects on the personalities and quirks of 13 animals—her friends—who have profoundly affected her in this stunning, poetic, and life-affirming memoir featuring illustrations by Rebecca Green.

Understanding someone who belongs to another species can be transformative. No one knows this better than author, naturalist, and adventurer Sy Montgomery. To research her books, Sy has traveled the world and encountered some of the planet's rarest and most beautiful animals. From tarantulas to tigers, Sy's life continually intersects with and is informed by the creatures she meets.

This restorative memoir reflects on the personalities and quirks of thirteen animals—Sy's friends—and the truths revealed by their grace. It also explores vast themes: the otherness and sameness of people and animals; the various ways we learn to love and become empathetic; how we find our passion; how we create our families; coping with loss and despair; gratitude; forgiveness; and most of all, how to be a good creature in the world.
Praise For How To Be A Good Creature: A Memoir in Thirteen Animals…
"Montgomery's lyrical storytelling and resonant lessons on how animals can enhance our humanity result in a tender, intelligent literary memoir."—Publishers Weekly "The National Geographic channel meets memoir in this brief, compelling examination of what animals can teach us about ourselves."—Kirkus "Mongtomery's gorgeously illustrated memoir is a must-read for animal lovers of every age."—HelloGiggles "Filled with fascinating stories of encounters and relationships with animals in various locations, this moving memoir will leave readers thinking about life on Earth, the creatures we share the planet with, and that 'brilliance' we have yet to fully understand."—School Library Journal "How to Be a Good Creature should be required reading. A superbly crafted memoir, this book brims with wonder, empathy, and emotion. It stands as a vivid reminder of the deep and necessary connection we share with all living things."—Nick Jans, author of A Wolf Called Romeo "How to Be a Good Creature is one of the most moving books I have ever read. Sy Montgomery's open honesty about her life allows her to find guidance from the unlikeliest creatures, and in their own ways these animals speak with the same spiritual purity as she speaks to us in this breathtaking work."—Bob Tarte, author of Enslaved by Ducks "I don't know anyone whose animal empathies and scientific bona fides I admire more than Montgomery's—from the curiosity she holds for a tarantula to the tender longing she has for an octopus. Told with characteristic humility and gorgeous language, How to Be a Good Creature is a remarkable achievement."—Eliot Schrefer, author of Endangered, a National Book Award finalist "A truly beautiful book about life, family, loss, and love."—Temple Grandin, author of Animals Make Us Human: Creating the Best Life for Animals "How to Be a Good Creature is a rare jewel, full of empathy and the profound wisdom Sy has received from animals she has loved over her extraordinary lifetime. This sweet book is a triumphant masterpiece that I'm recommending to everyone."—Stacey O'Brien, author of Wesley the Owl "This is a beautiful book—essential reading for anyone who loves animals and knows how much they can teach us about being human."—Gwen Cooper, author of Homer's Odyssey: A Fearless Feline Tale, or How I Learned About Love and Life with a Blind Wonder —
Mariner Books, 9780544938328, 208pp.
Publication Date: September 25, 2018
About the Author
In addition to researching films, articles, and over twenty books, National Book Award finalist Sy Montgomery has been honored with a Sibert Medal, two Science Book and Film Prizes from the National Association for the Advancement of Science, three honorary degrees, and many other awards. She lives in Hancock, New Hampshire, with her husband, Howard Mansfield, and their border collie, Thurber.
Website: symontgomery.com
Twitter: @SyTheAuthor.     

Rebecca Green is an illustrator of many children's and middle grade books, including The Unicorn in The Barn, Iqbal and His Ingenious Idea, Madame Saqui, and From Far Away. She is also the author and illustrator of How to Make Friends with a Ghost. This is her second collaboration with Sy Montgomery, their first being How to Be a Good Creature. She resides with her husband and their lovely animals, Mori and Junie B.
Website: www.rebeccagreenillustration.com
Instagram: @rebeccagreenillustration.