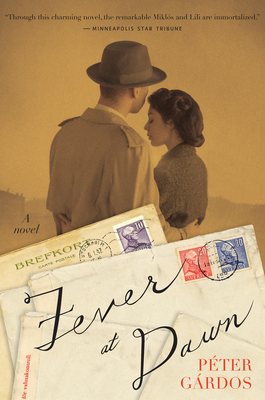 Fever at Dawn (Paperback)
Mariner Books, 9780544944411, 240pp.
Publication Date: April 18, 2017
Other Editions of This Title:
Digital Audiobook (4/11/2016)
Hardcover (4/12/2016)
Compact Disc (4/12/2016)
* Individual store prices may vary.
Description
"Fever at Dawn has the sweetness of The Rosie Project and the pathos of The Fault in Our Stars . . . A book to fall in love with." —  Herald Sun
 
It's 1945 and Miklós is looking for a wife. The fact that he has six months left to live doesn't discourage him — he isn't one to let small problems like that stand in the way, especially not after he's survived a concentration camp. Currently marooned in an all-male sanatorium in Sweden, and desperate to get out, he acquires the names of the 117 Hungarian women also recovering in Sweden and writes each of them a letter in his beautiful cursive hand. Luckily for him, Lili decides to write back.

Drawn from the real-life letters of Péter Gárdos's parents, and reminiscent of the film Life Is Beautiful,Fever at Dawn is a vibrant, ribald, and unforgettable tale, showing the death-defying power of the human will to live and to love.
 
"At once heartrending and lighthearted, this romance covers enormous ground in love and war, joy and tragedy." — Shelf Awareness, starred review
 
"A riveting and high-spirited journey from the brink of death toward life, [Fever at Dawn] asserts the power of love." — Julie Orringer, author of The Invisible Bridge
About the Author
PÉTER GÁRDOS is an award-winning Hungarian film director. Fever at Dawn is his first novel and is based on the true story of his parents.
 ELIZABETH SZÁSZ is a freelance literary translator based in Budapest.
Praise For Fever at Dawn…
"Fever at Dawn has the sweetness of The Rosie Project and the pathos of The Fault in Our Stars. Better still, it is based on a true story, that of the author's parents, who found love in the aftermath of the Holocaust and the horrors of World War II . . . Verdict: a book to fall in love with." —Herald Sun
 
"On the surface Fever at Dawn may seem a harrowing tale of survival and suffering, but in this remarkable book the Holocaust merely provides the backdrop for the most improbable of true-life love stories . . . There is a timeless quality to Fever at Dawn, a kind of classical romanticism . . . Gardos's fascinating novel is sure to become a staple in book clubs." —Australian
 
"Will make you like life more when you've finished." —Bookseller
 
"A riveting and high-spirited journey from the brink of death toward life, a novel that asserts the power of love in a world newly devastated by unspeakable hate. With courage, humor, and unfailing emotional honesty, Peter Gardos illuminates the incredible power of the human will—the drive not just to stay alive, but to fight for a life worth celebrating." —Julie Orringer, author of The Invisible Bridge
 
"Fever at Dawn belongs to the canon of extraordinary true stories about love and war and the power of letters. Dramatic, compassionate, and deeply moving, this unforgettable story reminds us that the Holocaust is not only history, it's a warning." —Jennifer Clement, author of Prayers for the Stolen
 
"The impossibly moving story of two damaged youths who forge from their amour fou a love that will light the decades ahead. With playfulness and charm, with iron conviction, Fever at Dawn will convince you that it's possible not only to survive the worst of human hell, but to transcend it." —Francisco Goldman, author of Say Her Name
 
"Books don't make me cry. Fever at Dawn did. Drawing you in with pathos and playful wit, it squeezes the heart with sorrow and leaves it expanded with joy and love." —Gabor Maté M.D., author of In the Realm of Hungry Ghosts
 
"A magnificent novel, tonally flawless, its humor defiant in the face of vast tragedy." —Joan London, author of Gilgamesh and The Good Parent