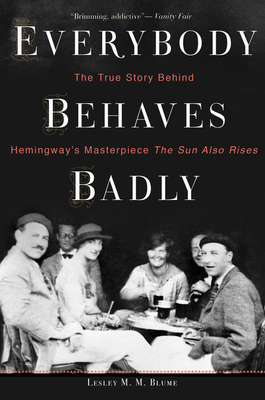 Everybody Behaves Badly (Paperback)
The True Story Behind Hemingway's Masterpiece The Sun Also Rises
Eamon Dolan/Mariner Books, 9780544944435, 368pp.
Publication Date: May 16, 2017
Other Editions of This Title:
Hardcover (6/7/2016)
* Individual store prices may vary.
Description
"Brimming, addictive . . . In Everybody Behaves Badly, the party has just begun and the taste of fame is still ripe . . . The Lost Generation [is] restored to reckless youth in living black and white." — James Wolcott, Vanity Fair
 
"An essential book . . . a page-turner. Blume combines the best aspects of critic, biographer and storyteller . . . and puts the results together with the skill of an accomplished novelist. [This is] a complicated story, told masterfully." — Minneapolis Star Tribune
 
"Magnificently reported." — Gay Talese
In the summer of 1925, Ernest Hemingway traveled to Pamplona for the infamous running of the bulls. He then channeled that trip's drunken brawls, sexual rivalry, midnight betrayals, and midday hangovers into a novel that redefined modern literature. Lesley Blume tells the full story behind Hemingway's legendary rise for the first time, revealing how he created his own image as the bull-fighting aficionado, hard-drinking literary genius, and expatriate bon vivant. In all its youth, lust, and rivalry, the Lost Generation is illuminated here as never before.  
"Engrossing . . . Drawing on journals, letters, and autobiographies of many members of the artistic circles in which Hemingway moved in the early 1920s, Blume shows how ruthlessly Hemingway betrayed his mentors, skewered his friends in his fiction, and sought to advance his career at all costs." — Boston Globe
 
 "Fascinating . . . compulsively readable." — Houston Chronicle
About the Author
LESLEY M. M. BLUME is an award-winning journalist, author, and cultural historian. She contributes regularly to Vanity Fair, and her work has appeared in many other publications, including the New York Times, The Wall Street Journal, Vogue, Town & Country, and The Paris Review Daily. She is a New Yorker currently based in Los Angeles.
 
Praise For Everybody Behaves Badly: The True Story Behind Hemingway's Masterpiece The Sun Also Rises…
A New York Times Bestseller
A Washington Post Notable Book of 2016​

"The story behind Hemingway's The Sun Also Rises is totally captivating, smartly written, and provocative." —Glamour

"Meticulously document[ed] ... pacily written ... Ms. Blume has drawn deeply upon many sources, particularly Hemingway's own correspondence, to deftly portray the cast of lost characters, their thin-skinned vanities and their quarrelsome insecurities." —The Wall Street Journal

"Fiendishly readable ... a deeply, almost obsessively researched biography of a book, supported by a set of superb endnotes worth reading in their own right." —Washington Post

"Masterfully told ... "Everybody Behaves Badly" is deeply evocative and perceptive, and every page has a Hemingway-like ring of unvarnished truth." —Christian Science Monitor

"[A] must-read ... In Lesley M.M. Blume's latest release, escape to the real-life world of Hemingway's groundbreaking piece of modern literature, The Sun Also Rises. The boozy, rowdy nights in Paris, the absurdities at Pamplona's Running of the Bulls and the hungover brunches of the true Lost Generation come to life in this intimate look at the lives of the author's expatriate comrades." —Harper's Bazaar

"[An] impeccably researched and resonant account of the true story behind The Sun Also Rises ... Everybody Behaves Badly breaks ground by stressing how important The Sun Also Rises was in bringing modernist literature to a commercial audience and, especially, the part Fitzgerald played in helping to encourage Hemingway and shape his manuscript." —The Financial Times

"Without sounding unduly disapproving or moralistic, Blume gives us a portrait of the artist as a young opportunist … [an] excellent book." —The Times Literary Supplement

"My favorite book of 2016 ... a fascinating recreation of one of the most mythic periods in American literature—the one set in Paris in the '20s—and about the writers and artists who were drawn there: Hemingway's friends, mentors, lovers, and enemies. Everyone behaved badly indeed, Hemingway worst of all, which is one reason it's hard to stop reading." —Jay McInerney

"As meticulous a history of the early 20th Century as it is a true drama-fueled page-turner starring characters like F. Scott Fitzgerald, Everybody Behaves Badly ticks both beach read and academic columns." —Tory Burch Daily

"A spirited account of a spirited age, when writers saw an opportunity to change the culture ... Blume presents a sharp portrait of a young nobody desperately, sometimes maliciously, trying to become a great — if not thegreat — writer of his time.  Despite the wobbly tower of books about Hemingway, it seems we can't keep from returning to him, and writers like Blume make it worth our while." —Los Angeles Review of Books

"Thick with juicy details...[with] a fascinating epilogue ... Blume writes that the outline alone for her book ran to 1,400 pages. And every page of that labor is visible." —Dallas Morning News

"[A] vivid character- and fact-filled book … One of the distinguishing features of Everybody Behaves Badly is just how crammed with anecdotes and facts it is — not to mention judgment and analysis. Ms. Blume has cast her net wide and dug deeply and intelligently into primary and secondary sources.  And it is precisely all this assiduousness on her part that makes this such a valuable addition to the vast literature on Hemingway, modernism, Paris in the 1920s, [and] expatriate American culture … Ms. Blume spares us none of the gory details of betrayals — literary and personal — naked ambition, ruthlessness, and all manner of nastiness that went into the making of [Hemingway's] stunning debut." —The Washington Times

"Blume's achievement is doubly remarkable. As an award-winning journalist and cultural historian, she revisits the intense nightlife of Parisian bars and cafes and the explosive, rivalrous drama of Pamplona in a chiseled, precise style that would please the master himself. By filling in Hemingway's purposeful silences and omissions with the story's real-life people and actual events, she accentuates the author's artistic genius and enlarges our understanding of the novel's complex characters and themes. This is a book for novice Hemingway readers as well as veterans of his work." —The Tampa Bay Times

"Everybody Behaves Badly is a page-turner of the highest order, chock-a-block with more scandal than the latest issue of Us magazine. It also offers deep insight into the paradox that is Hemingway himself ... It all makes for fascinating reading, and Blume's style, which has been compared to Flannery O'Connor and Truman Capote, is easy and engaging." —Winnipeg Free Press

"A wonderful book." —The Chicago Tribune

"[A] revealing reconstruction of Ernest Hemingway's revelry with friends in Pamplona, Spain, in 1925 and how it became the source of his groundbreaking modernist novel "The Sun Also Rises." —The Sacramento Bee
 
"In 1925, Ernest Hemingway and five companions traveled to Pamplona for six debaucherous weeks of booze, sex, and bullfighting that inspired The Sun Also Rises. Blume uncovers the truth behind the foundational roman à clef of the Lost Generation." —Departures

"Everybody Behaves Badly is the rollicking back story to Hemingway's vigorous work that cut American writing to the bone….Blume's excellent work enriches us with new research put to artful purpose." —Buffalo News
"Richly gossipy, beautifully illustrated (with some period photographs that the reader had actually never run across before), and lavishly well written ... Blume's full bore research is matched only by her own gift with words. Everybody Behaves Badly makes for a fine addition to the bookshelf that already contains Hemingway's own A Moveable Feast, as well as Nancy Mitford's Zelda, A. E. Hotchner's Papa Hemingway, and Calvin Tompkins' exquisite Living Well Is the Best Revenge. It is just that good." —New York Journal of Books

"The Lost Generation – in all its depression and excess – was immortalized in The Sun Also Rises. Now, cultural critic Blume pens the true story of that infamous 1925 trip to Pamploma from which Hemingway drew his inspiration, delving into the salacious travails of the group that would define an era of modern literature." - DuJour

"Blume's Everybody Behaves Badly can live squarely on its own as a commentary on Hemingway's post-war, expatriate psychology of creativity and its cost to his personal relationships." —Signature

"As the old saying goes, truth is stranger than fiction. And the two often intertwine, as we learn in Lesley M.M. Blume's mesmerizing account of the young Ernest Hemingway in Paris in the 1920s as he prepares to write his breakout debut novel,The Sun Also Rises….Blume's book is nonfiction, impeccably documented. Yet, like Hemingway's fictional masterpiece, it reminds us that real life can inspire great stories and writing." —Book Page
 
"A biography of a novel...Everybody Behaves Badly is itself an engrossing and varied tale: raucous and dissipated, pitiable and serious. Blume's research offers new detail to a well-studied story, and her narrative style is as entertaining as the original. Obviously required for Hemingway fans, this engaging work of nonfiction will also please a broad audience." —Shelf Awareness for Readers 

"[An] intelligent opus ... adtroit ... spectacularly good ... Blume provides a wealth of knowledge in the tightly packed 332-page study of Hemingway."  —Idaho Mountain Express