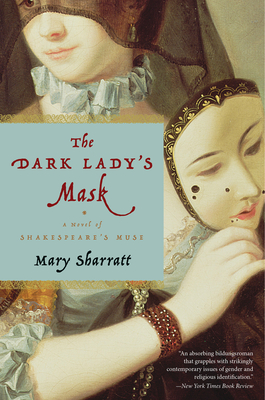 The Dark Lady's Mask (Paperback)
Mariner Books, 9780544944442, 432pp.
Publication Date: April 11, 2017
Other Editions of This Title:
Compact Disc (4/19/2016)
MP3 CD (4/19/2016)
Pre-Recorded Audio Player (5/15/2016)
Hardcover (4/19/2016)
Pre-Recorded Audio Player (5/15/2016)
* Individual store prices may vary.
Description
Named One of the Best Books of the Year by the St. Paul Pioneer Press
 
"An absorbing bildungsroman that grapples with strikingly contemporary issues of gender and religious identification"—New York Times Book Review

"An exquisite portrait of a Renaissance woman pursuing her artistic destiny in England and Italy, who may—or may not—be Shakespeare's Dark Lady."—Margaret George, best-selling author of Elizabeth I 
 
Aemilia Bassano Lanier is beautiful and accomplished, but her societal conformity ends there. She frequently cross-dresses to escape her loveless marriage and to gain freedoms only men enjoy—and then a chance encounter with a ragged, little-known poet named Shakespeare changes everything.

The two outsiders strike up a literary bargain: they leave plague-ridden London for Italy, where they begin secretly writing comedies together and where Will falls in love with the beautiful country—and with Aemilia, his Dark Lady. Their Italian idyll, though, cannot last. Will gains fame and fortune for their plays back in London and years later publishes the sonnets mocking his former muse. Not one to stand by in humiliation, Aemilia takes up her own pen in her defense, and in defense of all women.
 
"The idea of a smart, beautiful, artistic woman telling Shakespeare, 'We shall write comedies, you and I' is as heady as the elderflower wine Aemilia's household staff brews."—Washington Post
 
"Atmospheric, well-researched, carefully plotted…and, like Shakespeare's plays, chock-full of equal parts mirth and pith to please all."—Minneapolis Star Tribune
About the Author
MARY SHARRATT, the author of seven critically acclaimed novels, is on a mission to write strong women back into history. Her novels include Daughters of the Witching Hill, the Nautilus award-winning Illuminations: A Novel of Hildegard von Bingen,The Dark Lady's Mask: A Novel of Shakespeare's Muse, and Ecstasy, about the life, loves, and music of Alma Mahler. She is an American who lives in Lancashire, England.
 
Praise For The Dark Lady's Mask…
"Sharratt's historical novel is not just a response to the enigmas surrounding Shakespeare's sonnets but also an absorbing bildungsroman that grapples with strikingly contemporary issues of gender and religious identification, definitions and discrimination . . . At every turn the reader grows increasingly attached to this sympathetic and admirable heroine, whose weaknesses make her all the more convincingly human." —New York Times Book Review

"Entertaining . . . Quite touching, a finale befitting a character who has spun many a tale without ever seeing a byline." —Washington Post

"Atmospheric, well-researched, carefully plotted, this is an intellectual's romance novel . . . . full-bodied and intelligent, and, like Shakespeare's plays, chock-full of equal parts mirth and pith to please all." —Minneapolis Star Tribune

"Glorious . . . . It's too easy to categorize The Dark Lady's Mask as a novel of romance and Shakespeare. This is a novel of womanhood, its constraints and celebrations." —Roanoke Times

"Sharratt creates a believable and delightful portrayal of Lanier and her possible role as Shakespeare's Dark Muse. Her characters are rich and complex, and the intricacies, joys, and pains of their lives are realistic. The speculation within the novel works extremely well, because Sharratt works with historical fact and academic theory in the space between the documented facts of Lanier's life, Shakespeare's life, and their written works. Very highly recommended!" —Historical Novel Society