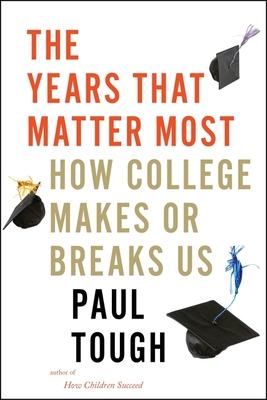 The Years That Matter Most
How College Makes or Breaks Us
Hardcover

* Individual store prices may vary.
Other Editions of This Title:
Digital Audiobook (9/9/2019)
Paperback (3/2/2021)
MP3 CD (9/10/2019)
Compact Disc (9/10/2019)
Description
"Indelible and extraordinary."—Tara Westover, author of Educated: A Memoir, New York Times Book Review
A New York Times Book Review Editors' Choice

The best-selling author of How Children Succeed returns with a powerful, mind-changing inquiry into higher education in the United States
Does college still work? Is the system designed just to protect the privileged and leave everyone else behind? Or can a college education today provide real opportunity to young Americans seeking to improve their station in life?
The Years That Matter Most
tells the stories of students trying to find their way, with hope, joy, and frustration, through the application process and into college. Drawing on new research, the book reveals how the landscape of higher education has shifted in recent decades and exposes the hidden truths of how the system works and whom it works for. And it introduces us to the people who really make higher education go: admissions directors trying to balance the class and balance the budget, College Board officials scrambling to defend the SAT in the face of mounting evidence that it favors the wealthy, researchers working to unlock the mysteries of the college-student brain, and educators trying to transform potential dropouts into successful graduates.
With insight, humor, and passion, Paul Tough takes readers on a journey from Ivy League seminar rooms to community college welding shops, from giant public flagship universities to tiny experimental storefront colleges. Whether you are facing your own decision about college or simply care about the American promise of social mobility,
The Years That Matter Most
will change the way you think—not just about higher education, but about the nation itself.
Praise For The Years That Matter Most: How College Makes or Breaks Us…
"Indelible and extraordinary, a powerful reckoning with just how far we've allowed reality to drift from our ideals." —Tara Westover, author of Educated: A Memoir, New York Times Book Review "Gorgeously reported. Vividly written. Utterly lucid. Paul Tough jumps skillfully between deeply engaging personal narratives and the bigger truths of higher education. The way he tells the stories of these students, it's impossible not to care about them and get angry on their behalf." —Ira Glass, host, This American Life "A stunning piece of work. The Years That Matter Most is ostensibly about higher education, about the college experience—and on that level, it's a completely absorbing narrative with some very surprising, trenchant analysis. But it's also a lot more than that. It's a book about class in America. It's a book about social mobility. And it's a devastating report card on the American dream. It's just a very special book." —Michael Pollan, author of How to Change Your Mind (at WBUR's CitySpace) "I've been begging everyone I know to read this book . . . It's an utterly absorbing, utterly enlightening, utterly important book about classism in American higher education and the myth of meritocracy." —Cheryl Strayed, author of Wild, in "By the Book," New York Times Book Review "[Tough's] urgent account combines cogent data and artful storytelling to show how higher education has veered from its meritocratic ideals to exacerbate society's inequality." —New York Times Book Review, Editors' Choice "Can't recommend this book highly enough. Paul Tough lights a fuse that blows up every piety that American higher education—and indeed, the American upper class—tells itself about elite colleges." —Dana Goldstein, New York Times (via Twitter) "What's best about the book, a fruit of all the time Tough spent with his subjects, is that it humanizes the process of higher education. He has fascinating stories about efforts to remediate class disparities in higher education, some of which have succeeded and some of which may have made matters worse." —Louis Menand, The New Yorker "A complex, essential book that asks an urgent question: Is our current higher education system designed to protect the privileged and leave everyone else behind? A fascinating, troubling read." —Heidi Stevens, Chicago Tribune "Paul Tough's important new book on the broken promises of higher education begins with a chapter that he succeeds in making as suspenseful as the prologue of any serial-killer novel and as heart-rending as the climax of an epic romance . . . Among his book's many vital contributions are its portraits of schools and programs that model a better way." —Frank Bruni, New York Times "A comprehensive, moving account of the inequalities that block many poor, minority and first-generation students from realizing the benefits of a college education." —Michael T. Nietzel, Forbes "Paul Tough's daring The Years That Matter Most forces us to unfold the suffering built into the creases of American higher education. It refuses to let us forget about the bodies and lives of real students. It should be necessary readi —
Mariner Books, 9780544944480, 400pp.
Publication Date: September 10, 2019
About the Author
PAUL TOUGH is the author of Helping Children Succeed and How Children Succeed, which spent more than a year on the New York Times hardcover and paperback bestseller lists and was translated into twenty-eight languages. He is also the author of Whatever It Takes: Geoffrey Canada's Quest to Change Harlem and America. He is a contributing writer to the New York Times Magazine and a regular contributor to the public radio program This American Life. You can learn more about his work at paultough.com and follow him on Twitter: @paultough.