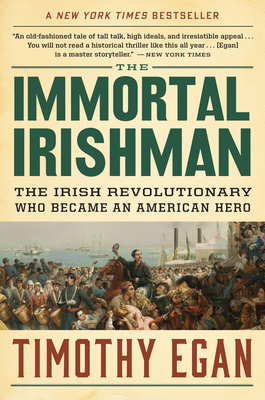 The Immortal Irishman
The Irish Revolutionary Who Became an American Hero
Paperback

* Individual store prices may vary.
Other Editions of This Title:
Digital Audiobook (2/29/2016)
Compact Disc (3/7/2017)
Compact Disc (3/1/2016)
MP3 CD (3/7/2017)
Description
In the New York Times bestseller The Immortal Irishman, Pulitzer Prize-winning author Timothy Egan illuminates the dawn of the great Irish American story, with all its twists and triumphs, through the life of one heroic man.

A dashing young orator during the Great Hunger of the 1840s, Thomas Francis Meagher led a failed uprising against British rule, for which he was banished to a Tasmanian prison colony for life. But two years later he was "back from the dead" and in New York, instantly the most famous Irishman in America. Meagher's rebirth included his leading the newly formed Irish Brigade in many of the fiercest battles of the Civil War. Afterward, he tried to build a new Ireland in the wild west of Montana — a quixotic adventure that ended in the great mystery of his disappearance, which Egan resolves convincingly at last.

"This is marvelous stuff. Thomas F. Meagher strides onto Egan's beautifully wrought pages just as he lived — powerfully larger than life. A fascinating account of an extraordinary life."—Daniel James Brown, #1 New York Times bestselling author of Facing the Mountain
Praise For The Immortal Irishman: The Irish Revolutionary Who Became an American Hero…
"Without a shadow of doubt this is one of the finest Irish-American books ever written….What Egan has done is restore the reputation and uncovered a host of details on a man I would venture to say had no peer in our history of Irish America….Egan's take on Irish-American history gives this book a breadth and significance that would be very hard to match." —Niall O'Dowd, Irish America "This is marvelous stuff. Thomas F. Meagher strides onto Egan's beautifully wrought pages just as he lived—powerfully larger than life. A fascinating account of an extraordinary life." —Daniel James Brown, author of The Boys in the Boat, Nine Americans and Their Epic Quest for Gold at the 1936 Olympics "A fascinating, well-told story by an author fully committed to his subject. Egan's impeccable research, uncomplicated readability, and flowing narrative reflect his deep knowledge of a difficult and complex man." —Kirkus Reviews, starred review "As history, Egan's book is solid; as storytelling, it's captivating . . . An impressive biography." —Publishers Weekly "Meagher lived life full-tilt, with old-fashioned honor as well as courage and dash, so inspiring Egan that the prose flashes and flares . . . " —Booklist, starred review   "Just in time for St. Paddy's Day comes this sensational bio."—AARP The Magazine "Thomas Meagher's is an irresistible story, irresistibly retold by the virtuosic Timothy Egan . . . The author tells Meagher's exhilarating story with an Irishman's flair for the tragic, poetic and dramatic . . . A gripping, novelistic page-turner…. Imperfect but irresistible, Meagher has long deserved a revival and reappraisal. For sure, he has a rousing one now." -- The Wall Street Journal "Stirring and magnificent . . . Egan combines deep reporting with masterful storytelling to chronicle this bigger-than-life figure." -- Dallas Morning News "Exhilarating . . . a rollicking, historical adventure story . . . You may not have heard the name Meagher, but after reading Egan's excellent biography, you'll never forget it." -- San Antonio Express News "An old-fashioned tale of tall talk, high ideals, and irresistible appeal . . .You will not read a historical thriller like this all year… [Egan] is a master storyteller." -- The Boston Globe "Egan has a gift for sweeping narrative . . . and he has a journalist's eye for the telltale detail . . . This is masterly work." -- The New York Times Book Review —
Mariner Books, 9780544944831, 384pp.
Publication Date: March 7, 2017
About the Author
TIMOTHY EGAN is a Pulitzer Prize–winning reporter and the author of eight other books, most recently The Immortal Irishman, a New York Times bestseller. His book on the Dust Bowl, The Worst Hard Time, won a National Book Award for nonfiction. His account of photographer Edward Curtis, Short Nights of the Shadow Catcher, won the Carnegie Medal for nonfiction. He writes a biweekly opinion column for the New York Times.