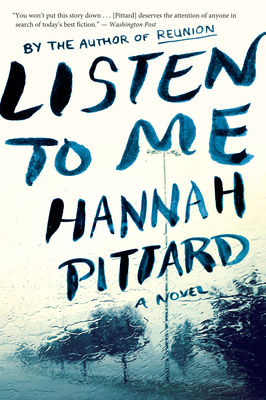 Listen to Me (Paperback)
Mariner Books, 9780544947184, 224pp.
Publication Date: May 16, 2017
Other Editions of This Title:
Compact Disc (7/26/2016)
MP3 CD (7/26/2016)
* Individual store prices may vary.
Description
A page-turning modern gothic about a marriage and road trip gone hauntingly awry
 
A New York Times Book Review Editors' Choice
 
"Pittard deserves the attention of anyone in search of today's best fiction." — Washington Post

"Revelatory." — The New Yorker
 
"[Listen to Me] gripped me completely and even gave me nightmares, which is high praise in my book." — Chicago Tribune
 
Mark and Maggie's annual drive east to visit family has gotten off to a rocky start. By the time they're on the road, it's late, a storm is brewing, and they are no longer speaking to each other. Adding to the stress, Maggie—recently mugged at gunpoint—is lately not herself, and Mark is at a loss about what to make of the stranger he calls his wife. When the couple is forced to stop for the night at a remote inn completely without power, Maggie's paranoia reaches an all-time and terrifying high. But as Mark finds himself threatened in a dark parking lot, it's Maggie who takes control. 

"Pittard proves herself a master of ordinary suspense." — New York Times

"Listen to Me elides so many genres that it's Houdini-like, bursting through constraints. It moves between its two characters' inner lives as effortlessly as an Olympic swimmer strokes through water." — Ann Beattie, Paris Review blog
 
"A psychologically complex, addictive, and quick-moving read. I didn't want it to end!" — M.O. Walsh, author of New York Times best-selling novel My Sunshine Away
 
About the Author
HANNAH PITTARD was born in Atlanta. She is the author of four novels, including Listen to Me and The Fates Will Find Their Way. Her work has appeared in the Sewanee Review, the New York Times, and other publications. She is a professor of English at the University of Kentucky, where she directs the MFA program in creative writing.
Praise For Listen to Me…
Praise for Listen to Me
 
"Hannah Pittard's got the goods. There's no doubt about it. Listen to Me has a way of making you uneasy from the get go. Maybe it's the approaching storm, the dark night, all the terrible things that might be hiding around the corner. Or maybe it's just how much the main characters, with all of their faults and scars and frustrated desires, remind us of ourselves. Regardless, this is a psychologically complex, addictive, and quick moving read. I didn't want it to end!" —M. O. Walsh, author of New York Times best-selling novel My Sunshine Away
 
"Listen to Me is the sort of novel you want to read in one sitting: suspenseful, unsettling, and beautifully written. Hannah Pittard goes into one couple's dark night of the soul with surprising charm and wit, but also with a fierce and intelligent honesty." —Dean Bakopoulos, author ofSummerlong
 
"In Listen to Me, Hannah Pittard takes the reader on a young married couple's chilling road trip. The dangers and mishaps of the physical journey provide enormous suspense but still greater are all the fears each houses within. Pittard is a gifted writer with an excellent eye for the intricate details that shape a relationship." —Jill McCorkle, author ofLife After Life
 
"An unflinching look at the tightrope walk of marriage, Hannah Pittard's Listen to Me holds a mirror up to our own twisted and hopeful idiosyncrasies. Pittard is an expert guide to the dark places of the soul, revealing how the smallest shift of balance in our fragile psyches can set off a chain of mini-detonations. But like the rain that accompanies this journey across America's heartland, Pittard's close empathy is a clarifying wash. This is the best kind of road trip novel: one where the tension drowns out the radio."—Katy Simpson Smith, author of The Story of Land and Sea
 
"Hannah Pittard's Listen to Me is a dazzling new novel with a perfectly drawn forty-something couple on a positively Hitchcockian misadventure. As the suspense grows, their world turns darker and more menacing, threatened by violent weather and bizarre people, like the cowboy who, out of nowhere, remarks on Maggie's appearance—or does he? By then you know you're in for the duration, a ride into the heart of darkness, West Virginia style, where, after a night in hell and a heartbreakingly high price, they find what they're looking for—a way out, a second chance." —Frederick Barthelme, author of There Must Be Some Mistake and Waveland
 
"The Millennials are coming of age, and they're getting married. In the shadows of meticulously planned domestic bliss, far from the pages of social media, young couples are discovering how little they know the ones they love. The story of Maggie and Mark, their fears and their misconceptions, is told with propulsive clarity, elegance, and wit. Listen to Me captures a cultural moment with stunning prescience, and Hannah Pittard's prose reads like a memory in waiting." —Michael Pitre, author ofFives and Twenty-Fives
 
"Hannah Pittard's Listen to Me is a strange and wonderful book about the mysteries of coupledom and the long surreal highways of America. It's written in a lean and elegant prose and I read these pages in one long and enthralled sitting."—Darcey Steinke, author ofSuicide Blonde andSister Golden Hai
A recurring theme throughout the novel is that of anonymity. It is the subject of Mark's book in progress; as Maggie's anxieties intensify, Mark sometimes feels "it was like he was living with a stranger" (p. 20). The "college girl" whose murder so disturbs Maggie is never named, rendering her death somehow impersonal. What do you think was Pittard's intention in highlighting this idea? What effect did it have on the "atmosphere" of the book?
In your opinion, is Mark's attitude toward the people they meet along their way to Virginia, including the family in the truck at the hotel parking lot, elitist? How does it compare to his feelings about Elizabeth's sense of entitlement?
Mark and Maggie each have a separate, unpleasant encounter with the same would-be cowboy at a gas station (pp. 44-49). Why do you think they each declined to tell the other about their encounters? How might the story, or the characters' feelings, have changed if each knew about the other's encounter?
Though Mark is frustrated that they have a neurotic dog, the phrase "a dog's dog and a man's man" pops into his head unbidden. He shakes it off and wonders, "Where had that thought even come from?" (p. 63). What is the significance of that phrase to you, coming at that particular point in the story?
Why do you think the author chose the title Listen to Me? Do you think the couple have trouble listening to each other?
Like many married couples, Mark and Maggie continually get into arguments or quarrels, and they've each developed strategies to try to win, evade, or resolve those arguments. What did you think of their various strategies? Did any seem particularly familiar?
In their various squabbles, did you find yourself siding with either Mark or Maggie in particular?
Do you think Mark and Maggie would be good parents?
Do you agree with Mark that modern technology and the Internet are a scourge, reducing the quality of life? Would it be better for Maggie not to know about the terrible stories she reads online, even though they've still happened?
At the end of the novel Mark castigates himself for assuming the worst about what was happening in the truck, and what his "ungenerous" assumptions and behavior led to. Do you agree with his final assessment of himself?
Maggie resolves at the conclusion of the book to "be better, calmer," to improve her physical and emotional health and pull herself out of the mire of the past few weeks (p. 184). Do you believe she'll stick to her resolutions?
Were you surprised by the plot developments in Listen to Me? What atmosphere did you feel Hannah Pittard was building as the novel reached its conclusion?