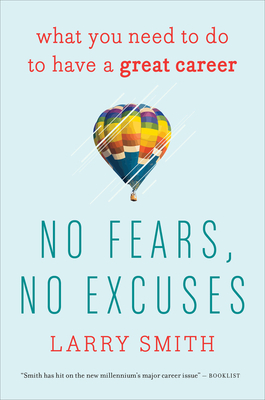 No Fears, No Excuses (Paperback)
What You Need to Do to Have a Great Career
Mariner Books, 9780544947207, 272pp.
Publication Date: May 23, 2017
Other Editions of This Title:
Hardcover (4/19/2016)
Compact Disc (4/19/2016)
Compact Disc (4/19/2016)
MP3 CD (4/19/2016)
Pre-Recorded Audio Player (4/19/2016)
* Individual store prices may vary.
Description
"Larry Smith has hit on the new millennium's major career issue." —Booklist

"Have you ever had a conversation with someone about your life that leaves you feeling so elated that you have goosebumps? This is a typical result of how I feel after chatting with Larry." —M. Azam Javed, Tesla

"Had it not been for the time I was able to spend with Professor Smith during my university years gaining his advice on career success, I would not be where I am today." —Mike McCauley, Google

Over the past three decades, Professor Larry Smith has become something of a "career whisperer" for his students at the University of Waterloo. His stunning TEDx talk on finding your calling has been viewed by more than six million people and counting.

This book captures the best of his advice in a one-stop roadmap for your future. Showcasing his particular mix of tough love and bracing clarity, Smith itemizes all the excuses and worries that are holding you back—and deconstructs them brilliantly. After dismantling your hidden mental obstacles, he provides practical, step-by-step guidance on how to go about identifying and then pursuing your true passion. There's no promising it will be easy, but the straight-talking, irrepressible Professor Smith buoys you with the inspiration necessary to stay the course.
About the Author
LARRY SMITH is an adjunct associate professor of economics at the University of Waterloo. He is a recipient of the University of Waterloo's Distinguished Teacher Award.
 
During his long-standing tenure, Smith has taught more than 23,000 students, representing more than 10 percent of UW's alumni. And, of course, millions from all over the world have viewed his provocative TEDx talk, and the numbers continue to grow on a daily basis. 

Professor Smith is also president of Essential Economics Corporation, an economic consulting practice that serves a wide range of public and private clients. The firm specializes in forecasting and in the economics of innovation and development.
 
He also advises UW students who start their own ventures. Smith has now worked with more than 450 teams of student entrepreneurs. Many have gone on to create companies of significant size and success. They include enterprises in such industries as communications, software, robotics, culture, entertainment, design, real estate, and professional services.

He lives in Kitchener, Ontario.
Praise For No Fears, No Excuses: What You Need to Do to Have a Great Career…
"Smith, a consultant and adjunct professor of economics at the University of Waterloo in Ontario, believes that everyone can feel a sense of passion about work. He uses the book as a platform to address the many questions that have arisen from his much-watched TEDx video, "Why You Will Fail to Have a Great Career." His advice, distilled from around 30,000 career statements collected through the years, centers on discovering one's passion. This can be difficult, but Smith offers up a series of steps to help, such as recognizing the distinction between passions and interests and initiating the "great sampling"—a process that includes reading widely, talking with people with varied interests, and thinking rigorously. Smith also shows how to draw up a career plan, prepare for the job market, and "sell yourself by selling your ideas." He concludes with a transformative section on confronting the titular fears and excuses that is challenging and highly valuable. Smith convincingly shows how individuals of any age and in any industry can chart a course to a great career by drawing on prior success stories." —Publishers Weekly
 
"Most people know Larry Smith via his renowned economics lectures, or via his immensely popular TEDx talk. There are a lucky few of us to whom Larry has provided personal career guidance; earth-shattering conversations that make you look at the working world anew. I am overjoyed that Larry is now sharing his incredible insight with all who aspire to make their mark." —Mike Jutan, Disney/Lucasfilm
 
"When I was in engineering school, Larry's advice to me was to do work that I love. If you choose to do work that you think you "should" do—and you are competing with people who love what they do—you will fail." —Barbara Adey, Hewlett Packard Enterprise
 
"Have you ever had a conversation with someone about your life that leaves you feeling so elated that you have goosebumps? This is a typical result of how I feel after chatting with Larry." —M. Azam Javed, Tesla
 
"Larry inspires us to take action against a formula for failure. His perspective on the competitive nature of the modern economy will drive you to create your own success." —Hiro Dozono, Facebook
 
"The conversations I had with Professor Smith helped me prioritize my career ambitions in a way that was dramatically effective for my self-development." —Ryan Westlake, Amazon
 
"It is perhaps all too easy to make wrong turns in one's career and to never experience the thrill of realizing your boldest dreams. My conversations with Larry Smith were instrumental in avoiding such a fate." —Dimitriy Tomilovskiy, Bloomberg
 
"Had it not been for the time I was able to spend with Professor Smith during my university years gaining his advice on career success, I would not be where I am today. Capturing this in a book is a gift to all." —Mike McCauley, Google