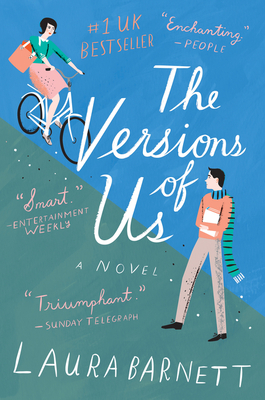 The Versions of Us (Paperback)
Mariner Books, 9780544947276, 432pp.
Publication Date: April 18, 2017
Other Editions of This Title:
Hardcover (5/3/2016)
Compact Disc (5/3/2016)
MP3 CD (5/3/2016)
Compact Disc (5/3/2016)
Library Binding, Large Print (6/1/2016)
* Individual store prices may vary.
May 2016 Indie Next List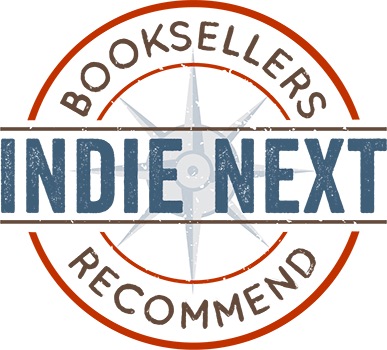 "This is a lovely debut that swept me along with the story of two people destined to be together after one chance meeting in college. From there, Bennett presents three different versions of their story, and readers see the next decades played out through the couple's eyes. Each story is different, yet features the same players, and each does not turn out as expected. This is a thoughtful and touching novel about love, expectations, and forgiveness."
— Kelly Estep (E), Carmichael's Bookstore, Louisville, KY
View the List
Description
#1 UK Bestseller
 
"A joy." — Guardian
 
"Enchanting." — People
 
"Triumphant." — Sunday Telegraph

"Stunningly crafted and constantly surprising . . . An utterly convincing love story about two people destined to be together somehow, no matter what." — Times
 
"One Day meets Sliding Doors." — Elle

A dazzling novel about the ways the smallest decisions give shape to our lives, The Versions of Us charts a relationship through three possible futures.

Cambridge, 1958. Late for class, Eva Edelstein swerves to miss a dog and crashes her bike. Jim Taylor hurries to help her. In that brief moment, three outcomes are born for Eva and Jim. As the strands of their lives weave together and apart across the decades from college through wildly different successes and disappointments, seductions and betrayals, births and funerals, joys and sorrows, the only constant is the power of their connection. TheVersions of Us is a tour de force of storytelling.
 
"Barnett renders an irresistible concept in sweet, cool prose — a bit like a choose-your-own-adventure book in which you don't have to choose." — Observer
 
"One of the most engrossing novels either of us has read in years." —Richard Madeley, Richard and Judy Book Club
 
"I simply adored this wonderful novel." — Jessie Burton, author of The Muse and The Miniaturist
 
About the Author
LAURA BARNETT is a writer, journalist, and theatre critic. She has been on staff at the Guardian and the Daily Telegraph, and is now a freelance arts journalist and features writer, working for the Guardian, the Observer, and Time Out London, as well as several other national newspapers and magazines. The Versions of Us is her first novel. She lives in London.
Praise For The Versions of Us…
#1 UK Bestseller
An Indie Next Pick, May 2016
A Publishers Marketplace Buzz Book 2016: Spring/ Summer
One of the Observer's New Faces of Fiction 
Winner of the Richard and Judy Spring Book Club 2016 (UK)​
 
"Barnett's enchanting debut imagines three possible lives, three possible love stories—each with its unique joys and sorrows—demonstrating that life has no perfect path."—PEOPLE, "The Best New Books"

"Every love affair has an origin story, and the one that launches The Versions of Us is as picturesque as any: A pretty coed, late to class one blustery October afternoon, swerves to avoid the little terrier skittering into her path, and a chivalrous young man comes to the rescue. Her tire is flat, punctured by a rusty nail; their chemistry, electric and instantaneous, is not…Versions is smart enough to know that the fantasy of infinite possibility is thrilling—but not nearly as much as the reality of true human connection."—ENTERTAINMENT WEEKLY

"A subtle meditation on the ways people change each other. Although the premise is romantic, Barnett explores romance in a realistic way, including obsession, insecurity, and sacrifice. Jim and Eva bring out the best and worst in each other, and their relationship(s) is a testament to the dark and light sides of romantic love...The choices we make under different circumstances are the real heart of the novel, as well as a sense that all paths are worth traveling."—CHICAGO REVIEW OF BOOKS

"British journalist Barnett's debut novel imagines the delicious prospect of romantic do-overs, cleverly negotiating the tricky and often dizzying terrain of three versions of first love...Barnett's evocative presentation is a masterly romantic study of love's choices and consequences, leaving wide open just what constitutes a perfect ending."—PUBLISHERS WEEKLY, starred and boxed review

"Barnett masterfully pulls the reader through these alternating tales. Each option is compelling and believable. Perhaps there's a lesson to be learned here: Regardless of the paths we choose, the people who are meant to be in our lives will find their way there."—BOOKPAGE

"An intriguing exploration of the many roads not taken."—BOOKLIST

"Fans of the novel One Day and the movie Sliding Doors will want to pick up this debut."—KIRKUS REVIEWS

"A rich, complex, and deeply satisfying novel… One of the most engrossing novels either of us has read in years."—Richard Madeley, THE RICHARD AND JUDY BOOK CLUB

"A triumphant debut… a thoughtful, measured book about the interplay of chance and destiny in our lives."—Elena Seymenliyska, SUNDAY TELEGRAPH

"Its very scope is a joy, the technical achievement seamlessly done, and the ending – all the endings – suitably affecting."—Jenny Colgan, THE GUARDIAN

"Well written, stunningly crafted and constantly surprising… An utterly convincing love story about two people destined to be together somehow, no matter what."—Kate Saunders, THE TIMES

"Barnett renders an irresistible concept in sweet, cool prose."—Hephzibah Anderson, THE OBSERVER

"Unique, complex and playful… Barnett suspends our disbelief like a conjuror."—Elizabeth Fremantle, SUNDAY EXPRESS

"An affecting and thought-provoking work, The Versions Of Us will keep you gripped until the tear-jerking conclusion."—Mernie Gilmore, DAILY EXPRESS

"A clever, romantic debut.. Barnett tells three outcomes of the same affair, a simple, effective metaphor for the paths love itself can take you on."—GRAZIA

"Such an exciting and clever novel. It marks the emergence of a major talent in literary fiction."—Viv Groskop, RED

"A deeply moving and emotional story that has the ability to make you evaluate your own life."—STYLIST

'A captivating whirlwind of a book… Barnett weaves the myriad strains of her characters' lives into a cohesive and compelling whole.' (Sarah Gilmartin, IRISH TIMES)

"She is a stylish writer; so much so, it's hard to believe that this is her first novel. Spanning the entire second half of the 20th century and much of the 21st, this book is evocative and atmospheric."—Anne Cunningham, IRISH INDEPENDENT

"Where to begin? With the fluid and effortless prose? The poise and control of the author? The tenderness – but never sentimentality – which permeates the characterization? The cleverness of the plot device? The Versions of Us is both brilliant and astonishingly good."—ELIZABETH BUCHAN

"Truly enthralling… I simply adored this wonderful novel."—JESSIE BURTON, author of The Miniaturist

"I absolutely loved [The Versions of Us]. It's so elegantly and beautifully written… I was equally enthralled by each of the three versions… A really wonderful book."—ESTHER FREUD

"Three roads diverged in a wood...and you have no idea which one the characters are going to take. It's "Sliding Doors" meets "One Day" and a lot of 'what ifs.'" —theSkimm