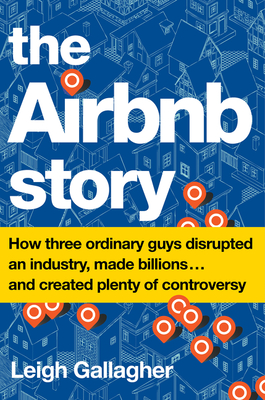 The Airbnb Story (Hardcover)
How Three Ordinary Guys Disrupted an Industry, Made Billions . . . and Created Plenty of Controversy
Houghton Mifflin Harcourt, 9780544952669, 256pp.
Publication Date: February 14, 2017
Other Editions of This Title:
Paperback (2/13/2018)
* Individual store prices may vary.
Description
This is the remarkable behind-the-scenes story of the creation and growth of Airbnb, the online lodging platform that has become, in under a decade, the largest provider of accommodations in the world. At first just the wacky idea of cofounders Brian Chesky, Joe Gebbia, and Nathan Blecharczyk, Airbnb has disrupted the $500 billion hotel industry, and its $30 billion valuation is now larger than that of Hilton and close to that of Marriott. Airbnb is beloved by the millions of members in its "host" community and the travelers they shelter every night. And yet, even as the company has blazed such an unexpected path, this is the first book solely dedicated to the phenomenon of Airbnb.

Fortune editor Leigh Gallagher explores the success of Airbnb along with the more controversial side of its story. Regulators want to curb its rapid expansion; hotel industry leaders wrestle with the disruption it has caused them; and residents and customers alike struggle with the unintended consequences of opening up private homes for public consumption. This is also the first in‑depth study of Airbnb's leader, Brian Chesky, the quirky and curious young CEO, as he steers the company into new markets and increasingly uncharted waters.
About the Author
LEIGH GALLAGHER is the senior editor-at-large at Fortune and serves as the host of Fortune Live, Fortune.com's weekly show featuring interviews and analysis from business newsmakers. Leigh is also a cochair of the Fortune Most Powerful Women Summit and Most Powerful Women Next Gen Summit, and she oversees Fortune's 40 Under 40 multiplatform editorial franchise. Leigh is a seasoned business news commentator, appearing regularly on MSNBC's Morning Joe, CBS This Morning, Face the Nation, CNBC's Squawk Box, public radio's Marketplace, and a variety of other programs.

She is also a frequent speaker at Fortune conferences as well as a seasoned moderator and keynote speaker. Leigh's first book, The End of the Suburbs: Where the American Dream Is Moving, published in 2013, has been described as a "first-rate social history," a "steel fist in a velvet glove," and "fascinating reading on changing trends in how and where we live." Leigh is a member of the Council on Foreign Relations; from 2012–2014, she was a visiting scholar at the Business and Economic Reporting Program at the Arthur L. Carter Journalism Institute at New York University. Before joining Fortune in 2007, Leigh was a senior editor at SmartMoney and a writer for Forbes. Originally from Media, Pennsylvania, Leigh is a graduate of Cornell University and lives in New York.
Praise For The Airbnb Story: How Three Ordinary Guys Disrupted an Industry, Made Billions . . . and Created Plenty of Controversy…
"An engrossing story of audacious entrepreneurism and big-industry disruption, The Airbnb Story is a tale for our times." --Charles Duhigg, author of bestsellers Smarter Faster Better and The Power of Habit

"Gallagher captures the remarkable journey of Airbnb exceedingly well; she takes readers from its earliest and scrappiest days through  becoming an enduring company with a brand beloved by millions around the world." --Reid Hoffman, partner at Greylock Partners

"A fast paced, fun dive into one of the seminal firms of our time; though the tale of Airbnb, Leigh Gallagher shows us how the sharing economy can be a force for emotional connection -- as well as for social and business disruption." -- Rana Foroohar, Financial Times columnist and CNN global economic analyst.

"A must-read for anyone who has wondered where Airbnb came from and where this highly popular and very disruptive company might be headed.  Leigh Gallagher takes you on a journey from the idea all the way to the company's current multi-billion dollar valuation."-- Bethany McLean, co-author of bestsellers The Smartest Guys in the Room and All the Devils Are Here

"Leigh Gallagher has written a compelling history of Airbnb's journey from a crazy, it-will-never-work idea to becoming a totally disruptive force." --Tony Hsieh, bestselling author of Delivering Happiness and CEO of Zappos.com, Inc.

"'The Airbnb Story' does yeoman's work explaining the Airbnb phenomenon to the uninitiated." -- San Francisco Chronicle

"Highly recommended for researchers and students of business as well as potential entrepreneurs, and anybody interested in Airbnb's success story." -- Library Journal, *starred* review