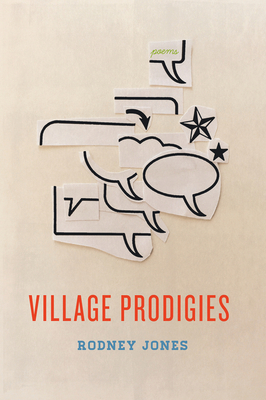 Village Prodigies (Paperback)
Mariner Books, 9780544960107, 192pp.
Publication Date: March 21, 2017
* Individual store prices may vary.
Description
"A novel in language as dense and lush and beautiful as poetry . . . [or] a book of poetry with the vivid characters and the narrative force of a novel? Whatever you care to call it, it's a remarkable achievement." — Richard Russo, Pulitzer Prize–winning author of Empire Falls
 
Village Prodigies imagines the town of Cold Springs, Alabama, from 1950 to 2015 and unfurls its narrative reach as six boys—prodigies and swains—grow up and leave the familiarity of home and the rural South.

Yet all prodigies, all memories, all stories inevitably loop back. Through a multiplicity of points of view and innovative forms, Rodney Jones plays with the contradictions in our experience of time, creating portals through which we travel between moments and characters, from the interior mind to the most exterior speech, from delusions to rational thought. We experience Alzheimer's and its effect on family, listen to family lore and read family Facebook posts, relive war, and revive half-forgotten folktales and video games. In this deep examination of personal and communal memory, Jones blurs the lines between analog and digital, poetry and prose.

 
About the Author
RODNEY JONES is the author of eleven books of poems. His many honors include the National Book Critics Circle Award, the Harper Lee Award, and the Kingsley Tufts Award, and he has been a finalist for the Los Angeles Times Book Award, the Griffin International Poetry Prize, and the Pulitzer Prize. He teaches in the low-residency MFA creative writing program at Warren Wilson College and lives in New Orleans and Southern Illinois.
Praise For Village Prodigies…
"The book bursts with anecdotes and experiences… [Jones builds] a perfectly flawed landscape of characters… sprawling… its poems inhabit the psychology and mythology of this Southern town… In these reflective moments, Jones' voice surfaces and unifies the collection." —ST. LOUIS POST-DISPATCH
 
"[Village Prodigies] presents a multifaceted, impressionistic history of an extended, 'backcountry genteel' Southern family… Holding the work together is Jones's vivid ('oil derricks in the white fields near the cemetery/like elephants doing pushups in dreams') and pithy ('It is how we see that composes us') poetic diction. Readers who seek out experimental literature will appreciate Jones's challenging approach to storytelling, as will those in search of richly realized, imaginatively crafted poetry." —LIBRARY JOURNAL
 
"Jones presents a novel in verse that is wonderfully complex in structure and reach and lively in its characters and setting, the imaginary southern town of Cold Springs, Alabama… Any James Dickey connoisseurs or fans of the films of David Lynch or Chris Nolan will feel right at home on these pages… This is a gorgeous, thought-provoking, and evocative book of narrative poetry." —BOOKLIST


"Already a master of narrative poetry, Rodney Jones has increased the possibilities of that form sevenfold with Village Prodigies, but that's just for starters. This book…[has] everything worth having, by the bucketload: a rare genius for the fabric of this world, linguistic inventiveness that Joyce would have envied and a music, in whatever measure he chooses to employ, that most poets don't even try for. This is it, the real thing, contemporary poetry's gold standard."
– John Burnside, author of Black Cat Bone, winner of the Forward Prize and the T.S. Eliot Prize

 "Wonderfully rich and dense; an adventure, a trip, an engrossing read, a Southern golden book of words."
–C.D. Wright, author of Shallcross, winner of National Book Critics Circle Award, Griffin International Poetry Prize

"The affinity and affection I have for Jones's previous books of poetry are beyond bounds, but Village Prodigies completely blows my mind—and my heart.  What do you get when you combine feel-good evangelicalism, blind patriotism, Cold War paranoia, small-town gossip, southern repression and provincialism, a cast of characters Shakespeare would envy, dead-on time travel, and a recurring poetic line of pentameter?  Apparently, you get this book, a novel in verse that expands the capabilities and the forms of poetry, a work of art set partly in a more innocent time that puts the turmoil of our own time into wise perspective.  Here we have the diagnosis and the antidote, as Robert Penn Warren observed, a commentary and, if not a way out, at least a way forward.  This is a book of inherent wisdom and explicit vision.  I am tempted to say a genius is behind this, but I know, more candidly, this book is a labor, the true work and attention of art, and the full expression of love, a human love reaching for a greater love out there in the vastness.  Here is a book, for all its irreverence, to raise to the heavens and be happy."
–Maurice Manning, author of One Man's Dark and Pulitzer Prize finalist

"Village Prodigies uses a modest American town and its citizens to ponder an immodest array of the world's most baffling imponderables. Beginning with the fallibility of one's own internal compass–the mind–and extending to every further layer of reliable knowns (family, circle of friends, town, country, world), Jones' characters have been thrown a gauntlet of conflicts (personal, local, national). And if the inner world trembles with uncertainty, the physical world -- by season, by tool, by history, by progress -- plods forward regardless. The book has it both ways, showcasing the lyric beauty of the eternal and abiding, as well as celebrating the individual in his headlong hurl through the too-brief and chaotic corporeal life. I applaud the truly avant garde nature of this project."
–Antonya Nelson, author of Funny Once and Nothing Right
 
 "There is a novelistic wholeness, with characters recurrent and developing, and a firm sense of place which, taken together, cause the sense of entering into a whole life. The drama and individuals are compellingly present. Nobody gets lost in the interweaving or in the shifts of perspectives…Some of the events are almost too painful to face, some too funny to do anything but grin. It is a fable as strong and true as that film I love, "Stand By Me," but with the grim future we all have also hovering in every instant."
– Dave Smith, author of Hawks on Wires and Little Boats, Unsalvaged
 
"It's one of the best contemporary poetry books I've ever read ever. The book plays with different forms, plays with punctuation and lines, syntax and diction, varies the points of view, moves between comic and tragic.  It makes the poems continually surprising both in form and content, which also creates a lot of energy…a tremendous achievement."
–Stephen Dobyns, author of Cemetery Nights