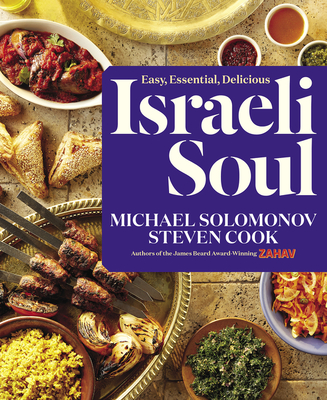 Israeli Soul
Easy, Essential, Delicious
Hardcover

* Individual store prices may vary.
Description
For their first major book since the trailblazing Zahav, Michael Solomonov and Steven Cook go straight to the food of the people—the great dishes that are the soul of Israeli cuisine. Usually served from tiny eateries, hole-in-the-wall restaurants, or market stalls, these specialties have passed from father to son or mother to daughter for generations. To find the best versions, the authors scoured bustling cities like Tel Aviv, Jerusalem, and Haifa, and sleepy towns on mountaintops. They visited bakeries, juice carts, beaches, even weddings. 
 
Their finds include meals in the hand like falafel and pita; juicy, grilled and roasted spice-rubbed meats; stuffed vegetables; a wealth of chopped vegetable salads; a five-minute fluffy hummus with more than two dozen toppings; pastries, ice creams, and shakes. Solomonov has perfected and adapted every recipe for the home kitchen.
 
Each chapter weaves history with contemporary portrayals of the food. Striking photographs capture all its flavor and vitality, while step-by-step how-tos and closeups of finished dishes make everything simple and accessible.
Praise For Israeli Soul: Easy, Essential, Delicious…
"In the follow-up to their 2016 James Beard Award–winning Zahav, chef Solomonov and his business partner Cook (together they have a string of restaurants in Philadelphia) mine the melting pot of Israel for the 70-year-old country's classic meals. Dishes are examined with quasi-Talmudic love...[and] temptingly presented. Whether cracking a joke about hummus ("After almost 1,000 years, people are pretty much okay with where hummus is at. It doesn't need to be deconstructed") or offering thorough guidance for crafting pita dough, this duo strikes a heartwarming, enthusiastic tone. Expect this offering to be as successful as Zahav." —Publishers Weekly, STARRED review  Praise for Zahav "Solomonov's food is the genuine cooking that you find all over Israel . . . cooking that bursts with freshly ground spices and complex flavors, from char-edged kebabs to tahini-rich sauces, chewy grains, fresh herbs and rainbows of vegetable salatim, or small cold salads that are the vivid starting point of every meal." —New York Times    "The pervasive feeling is one of warmth and commensality and celebration, family-style platters rather than perfect platings, a paean to off-the-cuff pleasures and raucous gatherings." —Eater   —
Harvest, 9780544970373, 384pp.
Publication Date: October 16, 2018
About the Author
MICHAEL SOLOMONOV, the executive chef of Zahav, named an "essential" restaurant by Eater, is the 2017 James Beard Outstanding Chef in America and the 2016 Eater Chef of the Year. STEVEN COOK, his business partner, and SOLOMONOV wrote Federal Donuts and the award-winning Zahav. Together, they own Zahav, Federal Donuts, Abe Fisher, Dizengoff, The Rooster, and Goldie restaurants.