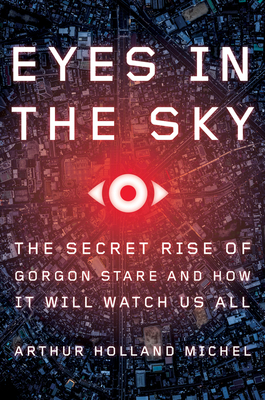 Eyes in the Sky
The Secret Rise of Gorgon Stare and How It Will Watch Us All
Hardcover

* Individual store prices may vary.
Other Editions of This Title:
Compact Disc (6/18/2019)
Compact Disc (6/18/2019)
MP3 CD (6/18/2019)
Description
The fascinating history and unnerving future of high-tech aerial surveillance, from its secret military origins to its growing use on American citizens

Eyes in the Sky is the authoritative account of how the Pentagon secretly developed a godlike surveillance system for monitoring America's enemies overseas, and how it is now being used to watch us in our own backyards. Whereas a regular aerial camera can only capture a small patch of ground at any given time, this system—and its most powerful iteration, Gorgon Stare—allow operators to track thousands of moving targets at once, both forwards and backwards in time, across whole city-sized areas. When fused with big-data analysis techniques, this network can be used to watch everything simultaneously, and perhaps even predict attacks before they happen.
     In battle, Gorgon Stare and other systems like it have saved countless lives, but when this technology is deployed over American cities—as it already has been, extensively and largely in secret—it has the potential to become the most nightmarishly powerful visual surveillance system ever built. While it may well solve serious crimes and even help ease the traffic along your morning commute, it could also enable far more sinister and dangerous intrusions into our lives. This is closed-circuit television on steroids. Facebook in the heavens. 
     Drawing on extensive access within the Pentagon and in the companies and government labs that developed these devices, Eyes in the Sky reveals how a top-secret team of mad scientists brought Gorgon Stare into existence, how it has come to pose an unprecedented threat to our privacy and freedom, and how we might still capitalize on its great promise while avoiding its many perils.
 
Praise For Eyes in the Sky: The Secret Rise of Gorgon Stare and How It Will Watch Us All…
"A startling, disturbing, and deeply reported account of the powerful new technologies that promise safety and imperil privacy on an unprecedented scale."
—Jeff Morley, Salon

"There is endless value in gathering data from every angle—especially from above. Arthur Holland Michel's new book, Eyes in the Sky, powerfully unpacks the evolution and morality of modern aerial surveillance. For the military and beyond, Holland Michel deftly outlines how we can delicately balance the technology's limitless potential with its resultant impacts on our daily lives."
—General (ret.) Stanley McChrystal, former commander of Joint Special Operations Command and author of Team of Teams

"A groundbreaking book about the promise and peril of wide-area motion imagery on and off the battlefield. Arthur Holland Michel's thoughtful and probing work calls for urgent consideration of the rapidly expanding uses—public and private—of automatic surveillance technology."
—Linda Robinson, author of One Hundred Victories
 
"Eyes in the Sky is an immensely readable and vitally important account of the development and deployment of surveillance technologies that will have profound implications for free societies. It belongs on the desk of every policymaker and on the bookshelf of every informed citizen."
—Ben Wizner, Director, ACLU Speech, Privacy & Technology Project

"On almost every page, EYES IN THE SKY offers astonishing details that seem to belong in science fiction. But they're true.  The same technology can be used to battle forest fires or literally track your every move. Can we control these machines? As Arthur Holland Michel makes clear in this riveting and important book, we now have a choice: confront the threat or sacrifice our basic freedoms."
—Eric Schlosser, author of Fast Food Nation and Command and Control

"Eyes in the Sky is an invaluable guide to a new era of 'smart' persistent surveillance."
—Trevor Paglen, artist and author of Blank Spots on the Map

"Engaging and timely, Arthur Holland Michel's portrayal of the ubiquitous eye in the sky shows how it makes us all safer, but also may mean the end of privacy. His work uncovers the groundbreaking history of some of the world's most advanced imagery surveillance programs and demonstrates a dizzying array of technological capabilities that have the potential to permanently alter many aspects of our society forever."
—Richard A. Clarke, author of Against All Enemies and former National Coordinator for Security, Infrastructure Protection, and Counter-terrorism
Houghton Mifflin Harcourt, 9780544972001, 336pp.
Publication Date: June 18, 2019
About the Author
ARTHUR HOLLAND MICHEL is a Peruvian-born writer and researcher. He has written about drones, artificial intelligence, culture, and immigration for Wired, Vice, Fast Company, Motherboard, Al Jazeera America, and an Oxford Research Encyclopedia, among other outlets. He is the co-director of the Center for the Study of the Drone, a research institute that he co-founded at Bard College in 2012.