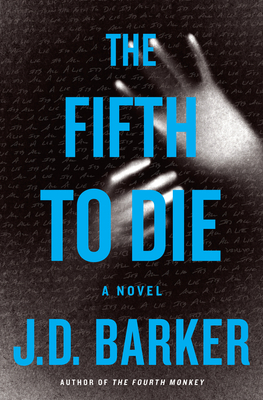 The Fifth To Die (A 4MK Thriller)
Hardcover

* Individual store prices may vary.
Other Editions of This Title:
Digital Audiobook (7/9/2018)
Paperback (7/9/2019)
Description
In the thrilling sequel to The Fourth Monkey, a new serial killer stalks the streets of Chicago, while Detective Porter delves deeper into the dark past of the Four Monkey Killer.

Detective Porter and the team have been pulled from the hunt for Anson Bishop, the Four Monkey Killer, by the feds. When the body of a young girl is found beneath the frozen waters of Jackson Park Lagoon, she is quickly identified as Ella Reynolds, missing three weeks. But how did she get there? The lagoon froze months earlier. More baffling? She's found wearing the clothes of another girl, missing less than two days.

While the detectives of Chicago Metro try to make sense of the quickly developing case, Porter secretly continues his pursuit of 4MK, knowing the best way to find Bishop is to track down his mother. When the captain finds out about Porter's activities, he's suspended, leaving his partners Clair and Nash to continue the search for the new killer alone.

Obsessed with catching Bishop, Porter follows a single grainy photograph from Chicago to the streets of New Orleans and stumbles into a world darker than he could have possibly imagined, where he quickly realizes that the only place more frightening than the mind of a serial killer is the mind of the mother from which he came.
Praise For The Fifth To Die (A 4MK Thriller)…
"J.D. Barker is a one-of-a-kind writer and that's a rare and special thing. Stephen King comes to mind and Lee Child, John Sandford. All one-of-a-kinds. Don't miss anything J.D. writes."— James Patterson "The craftsmanship here is outstanding. The story is intricate without being annoyingly so; the characters are sharply defined; the dialogue is fluid; and the ending—well, let's just say that when the book ends, it's like a speeding train slamming into the side of a mountain: unexpected, abrupt, painful. The story is scheduled to conclude in the next book, which better get here soon."—Booklist "Competent...the cliffhanger ending points to more mayhem in a third volume."—Publishers Weekly "Well-written, haunting, and insanely addictive. . . Bottom line, this is what a crime thriller is supposed to look like. Think Stephen King meets Michael Connelly — J.D. Barker was born to write crime thrillers, and The Fifth to Die is his latest masterpiece."—The Real Book Spy "I described J. D. Barker's first story about Chicago detective Sam Porter and his hunt for serial killer Anson Bishop, entitled The Fourth Monkey, as bearing comparison with Thomas Harris's creation of Hannibal Lecter. This sequel confirms my view: it is a superbly paced, beautifully constructed evocation of evil. Genuinely frightening, and with a terrific villain, it underlines just how good Barker is."—Daily Mail   "A talented writer with a delightfully devious mind!"—Jeffery Deaver, NY Times Bestselling Author   "I don't say this lightly: J.D. Barker is a force to be reckoned with."—Tosca Lee, NY Times Bestselling Author   "Barker knows how to evoke chilling imagery and will have readers anxiously looking over their shoulders with each terrifying "clickity, click, click."— Library Journal   "Barker is a master wordsmith."— AudioBookReviewer.com   "Masterful storytelling."— Bookish   "It is clear Barker is a name to watch."—The Horror Bookshelf   "Barker's slight of literary hand is absolute genius. He builds tension and then rips the rug right out from under you, just to do it all over again."—Quitterstrip   "Mr. Barker may have begun by following in the footsteps of such literary royalty as Stephen King, Thomas Harris, and Dean Koontz, but he has blazed a unique path all his own."— Fresh Fiction   "J.D. Barker is quite frankly one of the best crime thriller writers out there who should be on everyone's radar!"— Novel Delights   "Barker is an award-winning writer who is the second coming of Thomas Harris."— Book Reporter.com   "Barker is such a skilled and exciting writer, delivering a chilling, slow-build thriller, a final, jaw-dropping twist, and a cliffhanger ending that leaves readers dangling precariously by their fingertips."—Lancashire Evening Post    
Harper, 9780544973978, 544pp.
Publication Date: July 10, 2018
About the Author
J.D. BARKER is the internationally best-selling author of Forsaken, a finalist for the Bram Stoker Award for Superior Achievement in a First Novel, and winner of the New Apple Medalist Award. His work has been compared to Stephen King, Dean Koontz, and Thomas Harris. His 4MK Thrillers, The Fourth Monkey and The Fifth to Die, were released in June 2017 and June 2018 respectively. He has been asked by the Stoker family to coauthor the forthcoming prequel to Dracula due out in fall 2018. His novels have been translated into numerous languages and optioned for both film and television. Barker currently resides in Pennsylvania with his wife, Dayna, and their two dogs, both of whom sit outside his office door daily, eagerly awaiting his next novel.
or
Not Currently Available for Direct Purchase