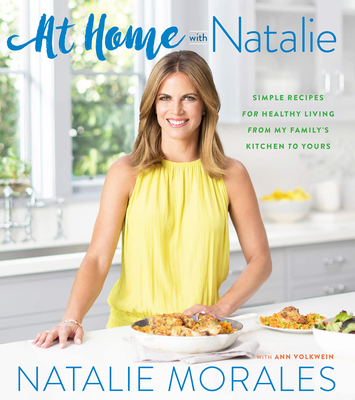 At Home with Natalie
Simple Recipes for Healthy Living from My Family's Kitchen to Yours
Hardcover

* Individual store prices may vary.
Description
Easy and delicious recipes for busy families from the TODAY show's West Coast anchor and host of NBC's Access

As the beloved and longtime news anchor and co-host of the TODAY show, current West Coast anchor of the TODAY show, host of Access, and co-host of Access Live, as well as the mother of two young boys, Natalie Morales knows how hard it can be night after night to get a healthful dinner on the table that the whole family will enjoy. Morales was born in Taiwan to a Brazilian mother and Puerto Rican father, and she lived around the world as a child—Panama, Spain, and Brazil. That multicultural experience fed her love for good food, but it's her experience as a working mom that taught her how to cook on the run and keep her recipes healthful. The result is a personal collection of 125 recipes Morales makes at home for her family, including Chicken in Garlic Sauce, Grilled Chimichurri Soy Steak, Sweet and Spicy Slow Roasted Pork, and Pesto Shrimp with Lemon Pepper Fettuccine.
Praise For At Home with Natalie: Simple Recipes for Healthy Living from My Family's Kitchen to Yours…
"For years I've enjoyed Natalie Morales in the mornings. With this book, I can enjoy her three meals a day."
—Giada De Laurentiis
 
"This book is as beautiful as Natalie! I can't wait to try these recipes in my own home."
—Kathie Lee Gifford, cohost on the TODAY show
 
"Natalie Morales has been in our homes every day for over a decade, and now we get to be at home with her through her thoughtful, healthful, and delicious recipes. Natalie makes it a priority to feed her family the way we should all be. This cookbook can now be your guide to accomplish that."
—Bobby Flay
 
"Finally!!! All I want to do is look like . . . feel like . . . live like Natalie Morales—so I guess I should start by eating like her."
—Hoda Kotb, cohost on the TODAY show
 
"Natalie's vibrancy for life, food, and her culture make this cookbook one that everyone should own!"
—Jenna Bush Hager, contributing correspondent for NBC News and editor-at-large for Southern Living
 
"I know what you're thinking: She's beautiful, smart, hardworking, humble, kind, funny, loving and devoted—and now she can cook, too? Yes, she can. For all her accomplishments, Natalie is never happier than when at home and in her kitchen. If you want to spice up your cooking with someone as lovely as Natalie herself, this is the book for you!"
—Savannah Guthrie, co-anchor on the TODAY show
 
"I've sat around Natalie's cozy kitchen table many times, and this book is a big ol' dose of heart and home."
—Kit Hoover, cohost on Access Hollywood Live
 
Houghton Mifflin Harcourt, 9780544974494, 288pp.
Publication Date: April 17, 2018
About the Author
Natalie Morales is the West Coast anchor of NBC News' TODAY, host of NBCU's Access and co-host of Access Live. She previously served as news anchor and co-host of TODAY's third-hour. She joined TODAY in 2006 as a national correspondent and has reported for all NBC News platforms including NBC Nightly News, Dateline NBC and MSNBC. Morales has contributed to several major breaking news stories, including coverage of the Royal  Wedding in 2011 and the birth of Prince George in 2013. In October 2010, Morales live-translated and reported on the Chilean miner rescue—coverage that was seen worldwide and recognized with a 2010 National Headliner Award. Her other notable reports include the 2009 presidential inauguration and Hurricane Sandy in 2012. Morales has also been an integral part of NBC's coverage of the Winter and Summer Olympics since 2004.
 
Morales has won three Daytime Emmy Awards as part of TODAY's recognition as the best morning news program.  She has won two Gracie awards in 2013 for Outstanding Series for Dateline's "My Kid Would Never," and in 2016 for her Today Show series "I am Unbroken."  And as part of TODAY's 'Shine a Light' Campaign in 2014, Morales ran in the Boston Marathon and raised over $75,000 for victims of the 2013 bombing.
 
Morales, who speaks Spanish and Portuguese, was born in Taiwan and spent much of the first 18 years of her life living overseas in Panama, Brazil and Spain as an Air Force "brat." She graduated summa cum laude from Rutgers University with a bachelor's degree in journalism and Latin American studies and was a member of Phi Beta Kappa. She currently resides in Los Angeles with her husband and two sons.
Ann Volkwein has authored or co-authored more than a dozen food and lifestyle books, including 5 bestsellers. When not on the computer or at the stove, she's out exploring the natural world with her preschooler.
or
Not Currently Available for Direct Purchase