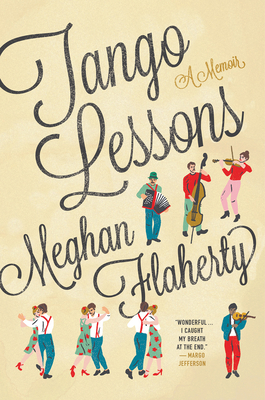 Tango Lessons
A Memoir
Hardcover

* Individual store prices may vary.
Other Editions of This Title:
Compact Disc (6/19/2018)
MP3 CD (6/19/2018)
Description
From a dazzling new literary voice, a debut memoir about a young woman learning to dance tango, becoming comfortable in her own skin and in the arms of others
 
Tango was an unlikely choice for Meghan Flaherty. A young woman living with the scars of past trauma, she was terrified of being touched and shied away from real passion. But by her late twenties, she knew something had to change. She dug up an old dream and tried on her dancing shoes.
 
In tango, there's a leader and a follower, and, traditionally, the woman follows. As Meghan moved from beginner classes to the late-night dance halls of New York's vibrant tango underground, she discovered that more than any footwork, the hardest and most essential lesson of the dance was to follow with strength and agency; to find her balance, regardless of the lead. And as she broke her own rule—never mix romance and tango—she started to apply those lessons in every corner of her life.
 
Written in wry, lyrical prose, and beautifully enriched by the vivid history and culture of the dance, Tango Lessons is a transformative story of conquering your fears, living your dreams, and enjoying the dizzying freedom found in the closest embrace.
 
Praise For Tango Lessons: A Memoir…
Praise for Tango Lessons
Named one of the Most Anticipated Titles of 2018 by The Rumpus
An iBooks Most Anticipated Memoir & Biography of the Summer
A Rumpus Book Club Selection
One of Charleston City Paper's Hot Summer Reads
A Thrillist Best Book of the Year So Far
One of HelloGiggles's Life-Changing Memoirs of the Summer

"As Virginia Woolf wrote, 'What a lark! What a plunge!' Meghan Flaherty has written a wonderful book. Encountering tango, she encountered a series of cultures and histories: that of the dance itself; that of its impassioned students, teachers, and acolytes in New York and elsewhere; that of her own very particular desires. Like a first-rate piece of dance, she's gotten the proportions right: the small details, the sweep of the whole, the use of space, scenery, the group, and the solo players. She is entertaining, thoughtful, and trustworthy because her self-examination—doubts, insecurities, grief—is never self-indulgent. I caught my breath at the end. Bliss indeed, those last sentences. I can't wait to read what she does next."
—Margo Jefferson, Pulitzer Prize-winning author of Negroland

"A dazzlingly honest, unblinking memoir, it is also deliciously written, authentically romantic and enormous fun to read."
—Phillip Lopate, author of To Show and to Tell and editor of The Art of the Personal Essay
 
"Meghan Flaherty is simply an astonishing writer. Brimming with sensuous detail and sophisticated wit, every page of Tango Lessons seduces and rebuffs, beguiles and delights. This is easily one of the finest books ever written about dance, and every bit as graceful as the art itself."
—Bronwen Dickey, author of Pit Bull: The Battle over an American Icon

"In Meghan Flaherty's Tango Lessons, tango plays a role similar to that of the fancy restaurant in Stephanie Danler's Sweetbitter...Although Sweetbitter is fiction and Tango Lessons is memoir, the books have a similar tone, a dramatic, Sylvia Plath–like lyricism...Flaherty's writing contains moments of real beauty."
—Newsday

"Not only is this Flaherty's triumphant account of overcoming her fears after trauma and learning to follow her dreams and trust in herself, but it's also a beautiful look at the history of tango itself."
—BookRiot

"As lyrically written as the steps she practices."
—HelloGiggles

"[Tango Lessons] takes Flaherty from humdrum New York City dance studios to an intoxicating subculture that had been thrumming, unbeknownst to her, under the surface of her city all along. That's not all she discovers, of course—while she's emphatic that tango isn't the fishnets-and-stilettos dance of cultural stereotype, it is still powerfully intimate, physical, and sensual. Flaherty lyrically captures the essence of the dance, as well as her stumbling journey into self-discovery, with a bit of toe sucking and bad sex along the way."
—Thrillist

"You know right away, as a dancer does, that you are in good hands. Like Sweetbitter, this is a memoir of a young woman trying to make it in contemporary New York City. Like H Is for Hawk  and Julie and Julia, it is also portrait of obsession...Flaherty is self-aware and writes beautifully, even as she relates the frustrations and tedium of drilling the strict dance steps with strangers or lecherous instructors...Her wide reading is one reason she is such a good writer. The book is laced with references in a welcome, unsnobbish way—Borges and Dickinson, Billy Collins and Kay Boyle...It's refreshing when an author has such regard for her readers...In addition to covering the lessons Flaherty takes, the book is chock-full of tango history lessons. The author is thorough—she discusses the cultures in which tango evolved and from which it was lifted. She honors traditional composers, pivotal figures, and the evolving, diverse contemporary scene. It's like an unexpected documentary running within the memoir...This is vivid stuff...Flaherty is so skilled and evocative in describing her emotions, her foibles, her joys, and her fixation that the reader remains invested. We care about her, we want her to do well, get over her problems, and that makes for a good read...As a writer, Flaherty is well on her way. Let's hope that she continues to enjoy writing as much as she enjoys tango."
—New York Journal of Books

"Consistently vibrant and entertaining, even for those who have little interest in dance; Flaherty is an intelligent writer who shows readers the joys of taking risks in life."
—Charleston City Paper

"Well-researched, eloquent, and entertaining, Flaherty's book is not only a witty, incisive reflection on a beloved dance and its history. It is also an intimate celebration of dance, life, and the art of taking chances. A vibrantly intelligent reading pleasure."
—Kirkus Reviews, *starred* review

"Thoughtful and entertaining . . . This moving story of dancing into womanhood is unforgettable; readers will warm to Flaherty's unassuming voice and marvelously rendered love of tango."
—Publishers Weekly

"An engaging memoir that will have readers looking for the closest tango studio."
—Library Journal

"Tango was [Flaherty's] refuge. But as she eloquently describes in this searching memoir, this was no easy escape into a world of fishnet stockings and sassy heels. Instead, she learns that to truly tango requires dedication, perseverance, and a willingness to let go and embrace the unknown . . . Flaherty slowly finds her own axis, both in dance and in life. With an acolyte's enthusiastic, detailed devotion, Flaherty traces how this demanding dance gradually led her to demand more for herself."—Booklist

 
Houghton Mifflin Harcourt, 9780544980709, 320pp.
Publication Date: June 19, 2018
About the Author
MEGHAN FLAHERTY has an MFA in nonfiction from Columbia University. Her essays and criticism have appeared in the New York Times; O, the Oprah Magazine; the Paris Review; Psychology Today; and elsewhere. She lives in Palo Alto, California, and Tango Lessons is her first book.
or
Not Currently Available for Direct Purchase