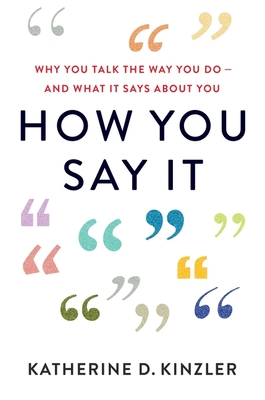 How You Say It (Hardcover)
Why You Talk the Way You Do—And What It Says About You
Houghton Mifflin Harcourt, 9780544986558, 272pp.
Publication Date: June 23, 2020
* Individual store prices may vary.
Description
From "one of the most brilliant young psychologists of her generation" (Paul Bloom), a groundbreaking examination of how speech causes some of our deepest social divides—and how it can help us overcome them.
We gravitate toward people like us; it's human nature. Race, class, and gender affect this social identity, but one overlooked factor can be even more powerful: the way we speak. As pioneering psychologist Katherine Kinzler reveals in How You Say It, that's because our speech largely reflects the voices we heard as children. We can change how we speak to some extent, whether by "code-switching" between dialects or learning a new language. But for the most part we are forever marked by our native tongue—and are hardwired to prejudge others by theirs, often with serious consequences. Your accent alone can determine the economic opportunity or discrimination you encounter in life, making speech one of the most urgent social-justice issues of our day.

Ultimately, Kinzler shows, our linguistic differences can also be a force for good. For her research reveals that exposure to different languages is beneficial—a paradox that hints at the benefits we can reap from mastering this ancient source of tribalism.

 
About the Author
KATHERINE D. KINZLER, PhD, is a professor of psychology at the University of Chicago. She holds a PhD in psychology from Harvard University and a BA in cognitive science from Yale University, and she was a Fulbright Scholar at the École Normale Supérieure in Paris. She was previously an associate professor in the Department of Psychology and the Department of Human Development at Cornell University and, prior to joining the faculty at Cornell, Kinzler was the Neubauer Family Assistant Professor and then associate professor at the University of Chicago. Her research with children is the first to show the pervasive and intuitive human tendency to see language as marking social groups. She has written for the New York Times,Quartz, and numerous academic journals. She lives in Chicago, Illinois.