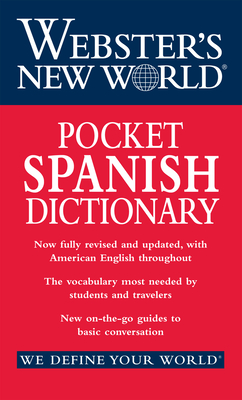 Webster's New World Pocket Spanish Dictionary (Paperback)
Webster's New World, 9780544987753, 448pp.
Publication Date: August 9, 2016
Other Editions of This Title:
Paperback (8/9/2016)
Other book format (2/2/2016)
Other book format (2/2/2016)
* Individual store prices may vary.
Description
A small, conveniently sized Spanish dictionary for quick, easy look-ups

This popular pocket Spanish dictionary has now been updated to include new terms as well as five new practical sections on making phone calls, expressing date and time, making introductions, expressing opinions, making suggestions, and extending invitations. Small enough to throw in a backpack or a purse, this pocket dictionary is perfect for school, work, or travel.
About the Author
Chambers Harrap, Ltd. is based in Edinburgh and publishes bilingual dictionaries in a wide variety of foreign languages. The editorial team consists of a cosmopolitan team of lexicographers from the UK, France and Spain who work closely with contributors all around the world. Teams in Mexico and the US play an important role in ensuring that the content of Harraps dictionaries is as international as possible. Editors are able to draw on the extensive databases of widely praised top-of-the-range French and Spanish titles, as well as the latest resources such as linguistic corpora and the Internet.