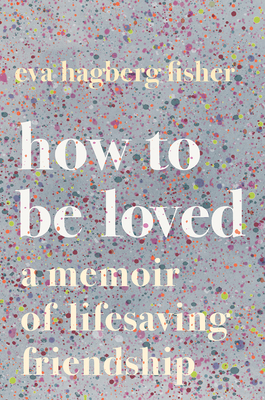 How To Be Loved
A Memoir of Lifesaving Friendship
Hardcover

* Individual store prices may vary.
Other Editions of This Title:
Paperback (2/4/2020)
Description
A luminous memoir about how friendship saved one woman's life, for anyone who has loved a friend who was sick, grieving, or lost—and for anyone who has struggled to seek or accept help

Eva Hagberg Fisher spent her lonely youth looking everywhere for connection: drugs, alcohol, therapists, boyfriends, girlfriends. Sometimes she found it, but always temporarily. Then, at age thirty, an undiscovered mass in her brain ruptured. So did her life. A brain surgery marked only the beginning of a long journey, and when her illness hit a critical stage, it forced her to finally admit the long-suppressed truth: she was vulnerable, she needed help, and she longed to grow. She needed true friendship for the first time.
       
How to Be Loved is the story of how an isolated person's life was ripped apart only to be gently stitched back together through friendship, and the recovery—of many stripes—that came along the way. It explores the isolation so many of us feel despite living in an age of constant connectivity; how our ambitions sometimes pull us apart more than bring us together; and how a simple doughnut, delivered by a caring soul, can become the essence of what makes a life valuable. With gorgeous prose shot through with empathy, pain, fear, and the secret truths inside all of us, Eva writes about the friends who taught her to grow up and open her heart—and how the relentlessness of suffering can give rise to the greatest joy. 
Praise For How To Be Loved: A Memoir of Lifesaving Friendship…
An Entertainment Weekly Most Anticipated Book A Rumpus Most Anticipated of 2019 Pick A Best Book of February at Apple Books   "Stunning…How to Be Loved is a memoir for the digital age, written briskly, almost like Facebook posts, with a sort of cheery brutality . . . For Hagberg Fisher, there is value in reaching out to others, in showing one's soft belly. It's dark stuff, but it comes as a relief, too: We're in this together."—Rachel Khong, New York Times Book Review  "A lovely memoir." ?—People "Fisher recounts the harrowing fallout of the rupture of an undiscovered mass in her brain at age 30, as well as the people — a few friends in particular — who helped bring her back to herself." ?—Entertainment Weekly    "How to Be Loved focuses on the interstices of, and the fears of not following, the standard trajectory — diagnosis, treatment, battle, recovery — where love ultimately lights the way." —San Francisco Chronicle  "This moving, beautifully written book reveals the lengths we go to put conditions on our love, the ways in which we resist the people who want to come close to us, and the truth that it is in our weakest moments that we are most likely to find the greatest sources of strength."—Nylon, "50 Best Books to Read in 2019"    "How to be Loved is searing, compassionate, and unexpectedly funny in its exploration of how suffering can beat us down to the point that we are forced to accept grace, whether we like it or not." ?—The Rumpus   "A primer on vulnerability, and the power of dropping your shield." ?—WBUR   "With the skill of an improvisational jazz musician, Eva Hagberg Fisher composes a harrowing, heartfelt tale about sickness and health, richer and poorer, better or worse—pillars of vows that often go unspoken between people who love each other. . . How to be Loved: A Memoir of Lifesaving Friendship, demonstrates her ability to convey the allegro-paced mental spiral that a serious medical diagnosis (or two, or three, in Fisher's case) would trigger, and the subsequent quiet reflection—bars of gentle adagio, if you will—best executed in profound, more succinct phrasing." ?—San Francisco Magazine  "It is the revelation that love can be unconditional and profound that makes this memoir stand out from many similar ones. Fisher is not just another survivor of a grave illness; she has been transformed by letting another person love her without constraint. A well-written, emotionally uplifting tale of friendships, extreme illnesses, and understanding what love truly means."—Kirkus Reviews   "[A]  gentle exploration of love and friendship . . . dazzling." ?—Publisher's Weekly, starred   "Architectural-historian Hagberg Fisher's new book is a memoir of recovery, first from substance abuse and then from a triad of debilitating illnesses, including a brain tumor. Though the book's subtitle suggests that this is also a book about the love between friends, it is above all about self-love. The book is full of a coterie of mostly anonymous friends who again and again surprise Hagberg Fisher by their willingness to respond to her Facebook posts chronicling illness or to come o —
Ecco, 9780544991156, 240pp.
Publication Date: February 5, 2019
About the Author
EVA HAGBERG's writing has appeared in the New York Times, T: The New York Times Style Magazine, Tin House, Wallpaper*, Wired, Guernica, and Dwell, among other places. She lives in New York City. 
or
Not Currently Available for Direct Purchase