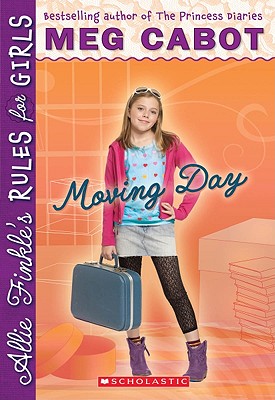 Allie Finkle's Rules for Girls Book 1
Moving Day
Mass Market

* Individual store prices may vary.
Other Editions of This Title:
Prebound (2/3/2009)
CD-Audio (3/1/2008)
CD-Audio (3/1/2008)
Hardcover (3/1/2008)
Description
#1 New York Times bestselling author Meg Cabot's middle grade debut -- now in paperback!

When nine-year-old Allie Finkle's parents announce that they are moving her and her brothers from their suburban split-level into an ancient Victorian in town, Allie's sure her life is over. She's not at all happy about having to give up her pretty pink wall-to-wall carpeting for creaky floorboards and creepy secret passageways-not to mention leaving her modern, state-of-the-art suburban school for a rundown, old-fashioned school just two blocks from her new house.
Scholastic Paperbacks, 9780545040419, 256pp.
Publication Date: February 1, 2009
About the Author
MEG CABOT'S many series and books for adults, teens, and tweens have included multiple #1 New York Times bestsellers and have sold more than fifteen million copies worldwide. Her Princess Diaries series has been published in more than thirty-eight countries and was made into two hit films by Disney. Meg also wrote the New York Times bestselling Mediator, Airhead, Insatiable, and Allie Finkle's Rules for Girls series, as well as the award-winning novels All-American Girl and Avalon High. Meg lives in Key West with her husband and two cats. Visit Meg online at www.megcabot.com.
Allie Finkle likes rules. That's why she likes math and science so much, because "you know where you stand with them rulewise." Do you and Allie share some of the same rules?
What is your relationship with your best friend? If you found out you had to move away from each other, how would you keep in touch?
One of Allie's rules of friendship is: "You should only say nice things to your friends, even if they're not true. This makes them feel better, and then they like you more." Do you think this makes for an honest friendship?
What changes do you see in Allie after she meets her new neighbor Erica and sees her room fixed up? Do you think Allie will adjust to her new school in the same way?
Allie is an animal lover. Do you love animals too? What responsibilities are involved in taking care of a pet?
Allie loves to play pretend with her new friends at Pine Heights Elementary. What games do you play with your friends?
Do you think you should pretend to be okay with something even if it is upsetting you? For example, Allie promises Uncle Jay she'll pretend she is happy about the move if he keeps the turtle from the Lung Chung Restaurant. Do you think Uncle Jay is being a responsible adult?
Allie is not happy when she is told she cannot take her geode collection with her when she moves. What is something you would be upset to leave behind?
Mary Kay and Brittany suddenly want to be friends with Allie again after she is featured in the local paper. What do you think of the way Allie handled their attempt at friendship? What would you have done?
or
Not Currently Available for Direct Purchase