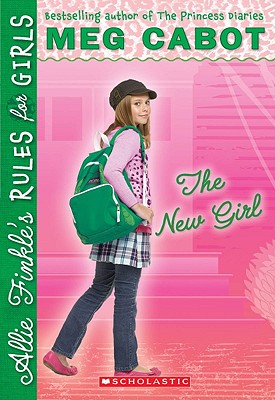 The New Girl
Paperback

* Individual store prices may vary.
Other Editions of This Title:
CD-Audio (9/1/2008)
Hardcover, Large Print, Large Print (2/1/2010)
Prebound (8/1/2009)
CD-Audio (9/1/2008)
Description
There's a whole new set of rules to learn when you're the new girl
When you are starting at a brand-new school, you have to wear something good.
Allie Finkle's starting her first day of school at Pine Heights Elementary Plus, she's getting a new kitten, the first pick of show cat Lady Serena Archibald's litter
But being the New Girl is turning out to be scary, too, especially since one of the girls in Allie's new class -- Rosemary -- doesn't like her. In fact, Rosemary says she's going to beat Allie up after school.

Scholastic, 9780545040426, 222pp.
Publication Date: August 1, 2009
About the Author
MEG CABOT'S many series and books for adults, teens, and tweens have included multiple #1 New York Times bestsellers and have sold more than fifteen million copies worldwide. Her Princess Diaries series has been published in more than thirty-eight countries and was made into two hit films by Disney. Meg also wrote the New York Times bestselling Mediator, Airhead, Insatiable, and Allie Finkle's Rules for Girls series, as well as the award-winning novels All-American Girl and Avalon High. Meg lives in Key West with her husband and two cats. Visit Meg online at www.megcabot.com.
Allie copes with having to go to a new school by becoming friends with her neighbor, Erica. How would you adjust to being the new girl/boy in town? Would you join a club, try to meet your new classmates before starting school, or introduce yourself to neighbors?
Allie expresses her individuality by wearing jeans under her skirt on her first day of school. After Rosemary makes fun of her outfit, Allie goes home at lunch to change. Do you think Allie should have stood up for herself and kept her outfit on? Why?
In chapter three, Allie is upset because she gets in trouble for talking in class and is made fun of on her first day of school. She wants to talk to her parents about it but her brothers keep interrupting. How do you work out a problem? Do you talk to someone special, write in a journal, or express yourself in another way?
Rosemary threatens to beat Allie up after school. Have you ever had to deal with a bully? Have you ever been the bully?
Allie receives mixed advice on how to deal with Rosemary's physical threat from her friends and family. The best advice comes from Mr. Elkhart, the school's janitor. He thinks Rosemary's anger comes from being left out. Have you ever felt left out? Have you ever made an effort to include someone?
Allie sees another side of Rosemary after inviting her over to meet Allie's new kitten, Mewsette. Rosemary admits she was jealous that Allie made friends so easily as the "new girl." Have you ever been jealous of someone?
In chapter ten, Allie is going to throw the spelling bee but Erica tells her that would be cheating. What kind of pep talk would you give Allie to encourage her to do her best in the spelling bee?
Allie is embarrassed to take her brother to school when he is dressed as a pirate. Have your friends or relatives ever embarrassed you? How?
or
Not Currently Available for Direct Purchase