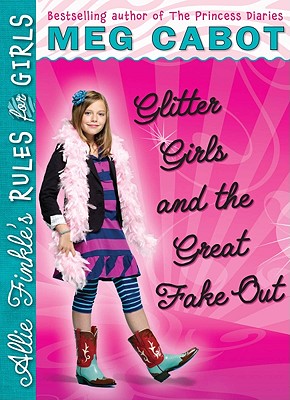 Glitter Girls and the Great Fake Out
Hardcover

* Individual store prices may vary.
Other Editions of This Title:
CD-Audio (3/1/2010)
Compact Disc (3/1/2010)
Mass Market (2/1/2011)
Prebound (2/1/2011)
Description
Allie's back with a brand-new set of rules
Allie plans on having the best weekend ever when she finds out Erica's sister Missy is in the regional Twirltacular baton competition-until Allie's mom announces that she has to go to Brittany Hauser's birthday party instead. But Allie doesn't even like Brittany Hauser, nor does she want to go to a party with Brittany and all her snobby friends.
But when Allie finds out Brittany's party includes taking a stretch limo to Glitterati, the store of the girls' dreams, and spending the night at a deluxe hotel suite, she decides maybe Brittany's not so bad after all.
Scholastic Press, 9780545040471, 193pp.
Publication Date: March 1, 2010
About the Author
MEG CABOT'S many series and books for adults, teens, and tweens have included multiple #1 New York Times bestsellers and have sold more than fifteen million copies worldwide. Her Princess Diaries series has been published in more than thirty-eight countries and was made into two hit films by Disney. Meg also wrote the New York Times bestselling Mediator, Airhead, Insatiable, and Allie Finkle's Rules for Girls series, as well as the award-winning novels All-American Girl and Avalon High. Meg lives in Key West with her husband and two cats. Visit Meg online at www.megcabot.com.
Even though Allie's mom is an adult, do you think it was right for her to say Allie would go to Brittany's birthday without first asking Allie if she wanted to go? Would it bother you if your mom or dad did that?
At the beginning of the book, Allie's faced with a dilemma. Should she go to Missy's Little Miss Majorette Baton Twirling Twirltacular with her best friends? Or should she risk hurting her friend's feelings and go to Brittany Hauser's birthday extravaganza because it will probably be more glamorous? She chooses Brittany's. What would you have done?
Do you think it's OK to lie if no one finds out about it? Have you ever gotten away with a lie? How did it make you feel inside?
Brittany's birthday party is certainly packed with excitement. A stretch limo stocked with neverending treats, a fashion shoot at Glitterati, room service in a fancy hotel . . . What more could you ask for? If you could have the perfect party for your next birthday, how would you choose to celebrate?
Even though Allie lied about "being forced" to go to Brittany's party, she still tries to make the best of it. But then Brittany and her friends start being mean to her. Do you think Allie deserves this treatment? Maybe it's karmic retribution for lying to her real best friends?
There's a lot of bullying at Brittany's birthday party—forcing Allie to wear a pirate costume when she doesn't want to, making fun of her distaste for tomatoes, bad mouthing her birthday gift. Eventually, Allie solves the problem by removing herself from the situation. Have you ever been bullied? If so, how did you handle it?
When Harmony comes to rescue Allie from Brittany's birthday disaster, she's pretty mad. Instead of comforting Allie and acting understanding, Harmony tells Allie that she "made some very bad choices." Do you think Harmony should've been so authoritative? Do you think what she said was right?
What lesson do you think Allie learns in the end?
or
Not Currently Available for Direct Purchase