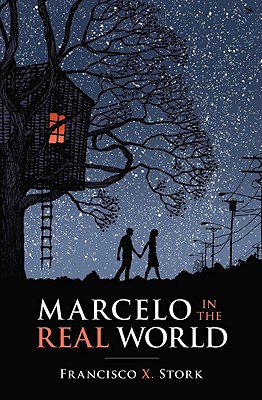 Marcelo in the Real World (Hardcover)
Arthur A. Levine Books, 9780545054744, 320pp.
Publication Date: March 1, 2009
Other Editions of This Title:
Compact Disc (3/10/2009)
* Individual store prices may vary.
Description
Imagine Curious Incident of the Dog . . . with a romance, and you have the beginnings of this story of a young man struggling with the world outside his head--and the woman who gets inside it.
The term "cognitive disorder" implies there is something wrong with the way I think or the way I perceive reality. I perceive reality just fine. Sometimes I perceive more of reality than others.
Marcelo Sandoval hears music that nobody else can hear - part of an autism-like condition that no doctor has been able to identify. But his father has never fully believed in the music or Marcelo's differences, and he challenges Marcelo to work in the mailroom of his law firm for the summer . . . to join "the real world."
There Marcelo meets Jasmine, his beautiful and surprising coworker, and Wendell, the son of another partner in the firm. He learns about competition and jealousy, anger and desire. But it's a picture he finds in a file a picture of a girl with half a face that truly connects him with the real world: its suffering, its injustice, and what he can do to fight.
About the Author
Francisco X. Stork is the author of iMarcelo in the Real World/i, winner of the Schneider Family Book Award for Teens and the Once Upon a World Award; iThe Last Summer of the Death Warriors/i, which was named to the YALSA Best Fiction for Teens list and won the Amelia Elizabeth Walden Award; iIrises/i; iThe Memory of Light/i, which received four starred reviews; and emDisappeared/em, which also received four starred reviews and was named a iKirkus/i Best Book of the Year. He lives near Boston with his wife. You can find him on the web at franciscostork.com and @StorkFrancisco.
Praise For Marcelo in the Real World…
"Stork introduces ethical dilemmas, the possibility of love, and other "real world" conflicts, all the while preserving the integrity of his characterizations and intensifying the novel's psychological and emotional stakes. Not to be missed." -- Publishers Weekly, starred review
"...Stork delivers a powerful tale populated by appealing (and decidedly unappealing) characters and rich in emotional nuance." -- Kirkus Reviews, starred review
"Writing in a first-person narrative, Stork does an amazing job of entering Marcelo's consciousness and presenting him as a dynamic, sympathetic, and wholly believable character." -- School Library Journal, starred review
"It is the rare novel that reaffirms a belief in goodness; rarer still is one that does so this emphatically." -- Horn Book, starred review
"Shot with spirtualism, laced with love, and fraught with conundrums, this book, like Marcelo himself, surprises." -- Booklist, starred review
"[I]n the skillful hands of Francisco X. Stork, 17-year-old Marcelo Sandoval is the bravest, most original hero I've met in years...[A] brisk, brilliant, unsentimental novel..." -- New York Times
"Part coming-of-age story, part mystery and wholly compelling..." -- Washington Post
"While several recent books have used the conceit of an autistic protagonist, this thoughtful novel full of complicated characters is unique." -- Chicago Sun-Times
"Stork has written a beautiful study of the loss of innocence, as the questions Marcelo confronts are ones everyone has to grapple with in some form or other..." -- Los Angeles Times