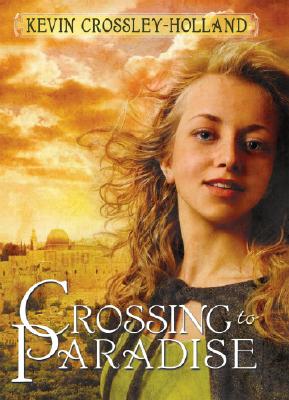 Crossing to Paradise (Hardcover)
Arthur A. Levine Books, 9780545058667, 339pp.
Publication Date: September 1, 2008
* Individual store prices may vary.
or
Not Currently Available for Direct Purchase
Description
Gatty is a field girl on a manor. She has never seen busy London or the bright Channel, the snowy Alps of France or the boats in the Venetian sea. She has not sung in the Holy Sepulchre in Jerusalem or prayed at the manger in Bethlehem -- or been kidnapped, or abandoned, or kissed, or heartbroken. But all these things will change. As Gatty journeys with Lady Gwyneth and a prickly new family of pilgrims across Europe to the Holy Land, Kevin Crossley-Holland reveals a medieval world as rich and compelling as the world of today it foresees -- and, in Gatty, a character readers will never forget.
About the Author
Kevin Crossley-Holland was born in 1941 in Mursley, North Buckinghamshire, and grew up in Whiteleaf, a village in the Chiltern Hills of western England. He attended Oxford University, where, after failing his first exams, he developed his passion for Anglo-Saxon literature. After graduating, he was the Gregory Fellow in Poetry at the University of Leeds, and from 1972-1977, he lectured in Anglo-Saxon for the Tufts University of London program. He worked as a children s book editor while beginning to write his own poems and reinterpretations of medieval legends. He has also taught for extended periods in America. He now lives in Norfolk, England. Kevin Crossley-Holland has published six volumes of adult poetry and several libretti for opera. In the world of children s books, he is best known for his numerous retellings and anthologies, and in particular his version of Beowolf. Storm, his novella, won the Carnegie Medal in 1985. The Seeing Stone, published by Scholastic, is his only other work of original fiction. T.H White is the inevitable comparison for Kevin Crossley-Holland s new novel, American readers will also be reminded of Karen Cushman, for the earthy, rich portrayal of life in a medieval manor. Its sequel, At the Crossing-Places, was published in the United States in fall 2002. The third title in this trilogy is King of the Middle March, which will be published in 2003. "
Advertisement