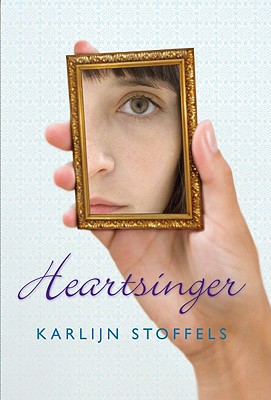 Heartsinger (Hardcover)
Arthur A. Levine Books, 9780545069298, 144pp.
Publication Date: January 1, 2009
* Individual store prices may vary.
Description
Mee was born with a great gift: the ability to sing other people's stories and heal their pain. But Mee also carries his own pain -- his failure to reach his deaf mother and heal her grief at his father's death. As he travels the country, he eases many people's sorrows, but he cannot connect with anyone himself.

Mitou also has a gift: spreading joy through a few notes from her accordion. When she hears about Mee--who was born on the same day she was--she knows that surely they belong together, each of them helping others through their music.
Praise For Heartsinger…
"At the midday hour on the same stormy day, two remarkable musicians are born in an unnamed land. Mee, the singer of dirges, can see inside a person's soul; Mitou, an accordion player, is the finest merrymaker. Dutch author Stoffels makes an impressive American debut as she adopts the mannered language of fairy tales. Hearing of Mee, Mitou feels certain that she is destined to meet him; as she travels to find him, Mee and Mitou each encounter individuals in need of their respective services. These characters' stories, cleverly interlinked, play on timeless themes of love, loss and rejuvenation, but fold in idiosyncratic elements: a queen gives birth between courses at a banquet (her neglected child is doomed to stare nonstop at her reflection: Somebody has to look at me.... And if nobody will, then I'll do it myself). Stoffels's prose can be overwrought (The sight of the waves causes me pain. Even the roar of the ocean stabs my heart), but her characters, especially the women, have a ferocity that belies the possibly precious tone, and readers who like love stories will savor the imaginative details." -- Publishers Weekly, starred review

"The intertwined layers of this story are peeled off as the author traces the odyssey of Mee, the son of deaf mute parents. Relying on sign language as a child, he soon discovers his own musical powers to ease the pain of others, and he becomes a renowned singer of sorrows. He is filled with sadness because he could not make his mother happy after his father's death and then feels empty when she dies as well. Mee travels from funeral to funeral, from sickbed to sickbed, giving voice to people's suffering, helping them to mourn and feel contentment again. He is called upon to help a princess, perhaps too conveniently named Esperanza, who mysteriously spends her time looking in a mirror. En route to his mission, he learns about a host of unusual people, each of whom is dealing with a void in his or her life. In addition, there is Mitou, a cheerful young woman who is a singer of joy. She was born of a loveless marriage at the same time as Mee. They are destined to unite in order to help people rid themselves of sorrow and fill their lives with joy. Each of the chapters offers a well-constructed backstory for the people whom Mee hears of on his journey and could be read on their own. This Dutch import owes much to its translator, who fills the pages with vivid prose that gives the stories a cinematic quality and a lilting tone. A unique selection by a master storyteller." -- School Library Journal

"Set in a land that seems to combine preindustrial Europe with folkloric elements, the several narratives in this book focus on individuals whose paths cross along the way. First there is Mee, an orphaned young man with a powerful gift of song that comforts those in mourning, though he himself seems incurably stricken by sorrow. Born on the same day, Mitou magically gladdens every heart with her music. Meanwhile, over many years, sad Princess Esperanza refuses to turn her gaze from the mirror, and in a nearby port town, a sailor's wife adjusts and readjusts to her lot. First published in the Netherlands, the novel is written with clarity and grace. The characters are sometimes enigmatic, but the stories play out in ways that seem inevitable as well as satisfying. The eye-catching cover photo looks more contemporary than the actual setting. Still, this unusual novel offers readers limpid writing, strong storytelling, and the unblinking recognition of love in many forms." -- Booklist

or
Not Currently Available for Direct Purchase