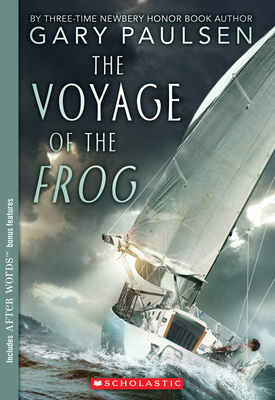 The Voyage of the Frog (Paperback)
Scholastic Paperbacks, 9780545085359, 141pp.
Publication Date: March 1, 2009
Description
David thought he was alone, that the ocean around him was all there was of the world. The wind screamed, the waves towered, and his boat, the twenty-two foot fiberglass FROG, skidded and bucked and, each moment, filled deeper and grew heavier with sea water.
David thought surely he was dead at fourteen. His uncle Owen, who had taught him about sailing safely, would be so angry. Owen had died only days ago, his last wish for David to take the FROG out on his own, and sail her beyond sight of the coast, and once there scatter Owen's ashes.
David had done this the evening before, but he hadn't thought of a storm roaring across the Pacific, or of the terror of being alone later in the dark hundreds of miles from home and his parents, alone with no radio or flares and little food. He hadn't thought of a shark attacking, or of the four killer whales, or the oil tanker large as a city about to sink him and the FROG. . . .
But in fact, David wasn't alone at all. He'd had the FROG as a partner from the first -- his uncle's guiding spirit. He had only to learn that.
About the Author
Gary Paulsen has written more than 175 books and some 200 articles and short stories for children and adults. He is considered one of the most important writers for young adults today. Three of his novels -- HATCHET, DOGSONG, and THE WINTER ROOM -- were Newbery Honor books, and his works frequently appear on the best books lists of the American Library Association.

Mr. Paulsen and his wife, Ruth Wright Paulsen, an artist who has illustrated several of his books, divide their time between their home in New Mexico, a boat in the Pacific, and adventures in the wilderness.
Advertisement