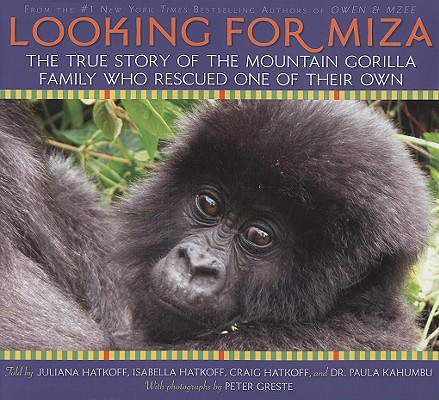 Looking for Miza (Hardcover)
The True Story of the Mountain Gorilla Family Who Rescued on of Their Own
Scholastic, 9780545085403, 40pp.
Publication Date: October 1, 2008
* Individual store prices may vary.
Description
In a magical place called the Congo, in the beautiful forests and jungles of Virunga National Park, lives a young female mountain gorilla named Miza. She was just like any other baby gorilla, riding on her mother's back, playing, taking naps. Then, one day, when Miza and her mother were out searching for food, Miza's mother disappeared, leaving her baby alone and frightened. Miza's father, a fierce silverback named Kabirizi and the leader of Virunga's largest family of mountain gorillas, set out to find Miza. The Congolese rangers, who dedicate their lives to protecting the gorillas, were searching for Miza, too. Everyone was worried about her. Then something amazing happened: Kabirizi found Miza and brought her back to live with her family.
Virunga is home to roughly 380 mountain gorillas, just over half of the planet's remaining mountain gorilla population. Miza and other mountain gorillas face an especially uncertain future. They are an endangered species, disappearing at an alarming speed. Without our help they could vanish completely.
Filled with lush photographs by award-winning photographer Peter Greste, LOOKING FOR MIZA is a powerful call to action. The fate of these majestic creatures is in our hands. This is Miza's story. It's our story, too.
 
About the Author
Craig Hatkoff is the co-founder of the Tribeca Film Festival and of Turtle Pond Publications. Both Owen & Mzee: The True Story of a Remarkable Friendship and Owen & Mzee: The Language of Friendship are New York Times bestsellers. He lives with his wife and their two daughters in Manhattan.
or
Not Currently Available for Direct Purchase