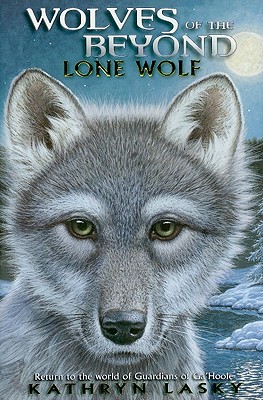 Lone Wolf (Hardcover)
Scholastic Press, 9780545093101, 219pp.
Publication Date: January 1, 2010
* Individual store prices may vary.
or
Not Currently Available for Direct Purchase
Description
From bestselling author Katherine Lasky comes the first book in WOLVES OF THE BEYOND, a stunning new spinoff from her legendary owl series, Guardians of Ga'hoole.
A wolf mother has given birth, but the warm bundle snuffling next to her brings only anguish. The pup, otherwise healthy, has a twisted leg, and the mother knows what the harsh code of the pack demands. Her pup will be taken from her and abandoned on a desolate hill. The pack cannot have weakness - the wolf mother knows that her pup is condemned to die.
But alone in the wilderness, the pup, Faolan, does not perish. This his story - a story of survival, of courage, and of love triumphant. This is Faolan's story, the wolf pup who rose up to change forevever the Wolves of the Beyond.
About the Author
Kathryn Lasky is the Newbery Honor-winning author of over one hundred books for children and young adults. Her beloved Guardians of Ga Hoole fantasy series has sold more than 4 million copies, and she is the author of the Daughters of the Sea series, the Wolves of the Beyond series, as well as A TIME FOR COURAGE and other Dear America titles. Kathryn has also written a number of critically acclaimed nonfiction titles, such as BEYOND THE BURNING TIME and TRUE NORTH. She lives with her husband in Cambridge, MA. "
Praise For Lone Wolf…
Praise for the first book in the Wolves of the Beyond series.

"This is a soulful, searching read consumed with the spiritual journeys of animals and the ethereal connection between slayer and slain. [W]ith an invigorating ending that bodes well for the next volume." - Booklist

"The author builds a captivating world of forest, snow and volcanoes populated by intelligent animals and weaves a compelling story sure to bring readers back for the second installment." - Kirkus

Booklist – Issue: December 1, 2009
The literary grandchildren of Richard Adams\u2019 Watership Down (1974) proliferate in this complex and nuanced talking-animal adventure. Lasky\u2019s descriptions of a newborn wolf pup\u2019s craving for light, milk, and meat are wonders of sensory economy—immediately you\u2019re invested in his struggle. But wolf custom decrees that he be abandoned to die because of a deformed paw. A childless bear named Thunderheart finds the pup, names him Faolan, and under her guidance he grows to be unusually strong and savvy. Then a tragic event compels him to seek out his own kind. This is a soulful, searching read consumed with the spiritual journeys of animals and the ethereal connection between slayer and slain. At times it becomes mired in mythos, but when the story lets loose, it pays off, as when Faolan encounters a metalsmithing owl (with connections to Lasky\u2019s Guardians of Ga\u2019hoole series), who rights the wolf\u2019s crooked path. A sedate start to the Wolves of the Beyond series, perhaps, but with an invigorating ending that bodes well for the next volume. — Daniel Kraus
Advertisement