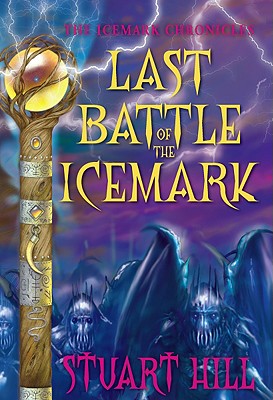 Last Battle of the Icemark (Hardcover)
Chicken House, 9780545093293, 471pp.
Publication Date: April 1, 2009
Description
Oskan and Thirrin thought their bad-seed daughter was gone for good--burnt to a cinder and cast out onto the Spirit Plain. But banishment did not kill Medea; it made her stronger. Now, allied with Cronus, embodiment of all evil, the young sorceress is plotting revenge. Thirrin is distracted by a new invader whose troops ride huge triceratops-like beasts into battle. But the warlock Oskan realizes the true threat to the kingdom is the demon army assembled by his daughter. To ensure the Icemark's eternal safety, he knows he must destroy her soul--even if it means sacrificing his own.
About the Author
The Cry of the Icemark, Stuart Hill's first novel is not only a remarkable debut but also a personal tribute. When he was a teenager, Stuart lost "the real Thirrin," his red-haired sister Kathleen, to leukemia. The story of the brave young warrior-queen who faces impossible dangers is dedicated to her. The Cry of the Icemark won the Ottakars Prize for the best new children's novel, an award given by one of Britain's leading book chains. Fox 2000 Pictures will turn the story into a major motion picture and foreign rights have been sold to over 14 countries.

Among his influences Stuart counts H. Rider Haggard, J.R.R. Tolkien, C.S. Lewis, and Margaret Abbey--his former grade school teacher and a writer of historical novels. Before beginning The Cry of the Icemark, he asked himself what had grabbed his interest as a young reader. The answer? Heroes, magic, monsters, and talking beasts. From noble Snow Leopards to ancient Vampire royalty to ferocious Wolf-folk, the characters in Icemark are sure to spark the imagination of children everywhere, and Stuart is already at work on the sequel to Thirrin's epic tale.

Stuart was born in Leicester, in the East Midlands of England, where he still lives today. His family background includes English, Irish, Romany, and Jewish blood. Although, as a student, his grades were average at best, Stuart was fortunate to have a teacher who inspired in him a lifelong love of reading. Since leaving school, he has worked as a teacher and archaeologist, and now balances life as both a bookseller and an author.
Advertisement