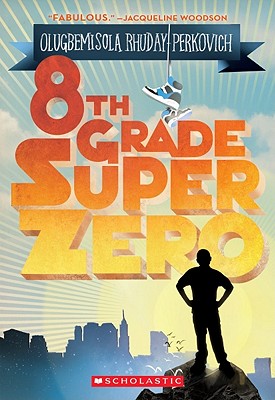 Eighth-Grade Superzero (Paperback)
Arthur A. Levine Books, 9780545097253, 352pp.
Publication Date: June 1, 2011
Other Editions of This Title:
Hardcover (1/1/2010)
* Individual store prices may vary.
Description
After the worst first day back *ever*, Reggie's been nicknamed "Pukey" McKnight at his Brooklyn school. He wants to turn his image around, but he has other things on his mind as well:  his father, who's out of a job; his best friends, Joe C. (who's a little too White) and Ruthie (who's a little too intense); his ex-best friend Donovan, who's now a jerk; and of course, the beautiful Mialonie. The elections for school president are coming up, but with his notorious nickname and "nothing" social status, Reggie wouldn't stand a chance, if he even had the courage to run.

Then Reggie gets involved with a local homeless shelter. Inspired by the clients there--especially Charlie, a five-year-old kid who becomes his official "Little Buddy"— he begins to think about making a difference, both in the world and at school. Pukey for President? It can happen . . . if he starts believing.

About the Author
Olugbemisola Rhuday-Perkovich grew up in the United States, Nigeria, and Kenya, and studied writing with Paula Danziger and Madeline L'Engle. She lives in Brooklyn, New York. Visit her on the web at www.olugbemisola.com.
Praise For Eighth-Grade Superzero…
"Rhuday-Perkovich delivers a masterful debut, telling a layered middle-school tale filled with characters who are delightfully flawed and, more importantly, striving to overcome those flaws. Reggie McKnight has been saddled with the nickname "Pukey" thanks to a disastrous incident on the first day of school. Attempting to get through the rest of the year unnoticed, he spends his time with his best friends, political activist Ruthie (who shares Reggie's Jamaican background) and aspiring rapper Joe C. While working on a project at a homeless shelter with his church's youth group, he becomes increasingly interested and involved in the community, leading to his participation in his school's presidential race, first as an adviser to a classmate, eventually as a candidate. Rhuday-Perkovich doesn't take shortcuts, forcing Reggie to deal with a world in which he doesn't always get the answers or successes he wants, and the book shines as a result. Messages of social justice–whether through church projects, parental discussions, or recognition of racial biases among his friends–complement the story and characters, rather than upstage them." -- Publisher's Weekly, starred review

"Though he imagines himself a superhero, Reginald McKnight threw up on the first day of school and acquired the less-than-cool nickname "Pukey"–now, he just wants survive the year "under the radar and on the sidelines." Readers might legitimately fear this will be just another middle-school tale of plastic vomit, "puke-worthy" cafeteria food and snorting milk out of nostrils, but when Reggie gets involved with a service project at the Olive Branch Shelter to document the lives of the homeless, he realizes that "[e]ighth grade isn't all there is to life." When Reggie runs for class president, his platform becomes getting students involved in the community, with the shelter as a good place to start–as tutors, painters, babysitters, walking partners and after-school helpers. A good-hearted, nuanced story of a young man who dares to be more than his place in a middle-school social hierarchy, a tale rooted in religious faith and social conscience, related with lively good humor." -- Kirkus Reviews

or
Not Currently Available for Direct Purchase