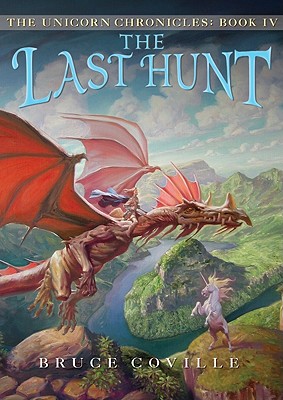 The Unicorn Chronicles #4: The Last Hunt (Hardcover)
The Last Hunt
Scholastic Press, 9780545128070, 624pp.
Publication Date: June 1, 2010
* Individual store prices may vary.
or
Not Currently Available for Direct Purchase
Description
In the center if Luster stands an enormous tree called the Axis Mundi, the Heart of the World. But now that tree is wounded, pierced through by magic. And through that wound marches an army of Hunters, led by the sinister and vengeful Beloved. And they are all determined to destroy each and every unicorn.
As the unicorns gather to defend their lives, the human girl, Cara, is sent on a mission to meet a ferocious and mysterious dragon. Faced with perilous danger, Cara must make a desperate decision that will change her life forever.
(contd.)
(contd.)
With a deft hand and keen imagination, master storyteller Bruce Coville brings this riveting epic fantasy series to a rousing conclusion as the secrets of Luster are finally and satisfyingly unveiled.
About the Author
Bruce Coville has received over a dozen Children's Choice Awards, and has written more than ninety popular books for young people, including MY TEACHER IS AN ALIEN, INTO THE LAND OF THE UNICORNS, SONG OF THE WANDERER, and THE MONSTER'S RING. His most recent novel, DARK WHISPERS, is the third book in his beloved Unicorn Chronicles series. He lives in Syracuse, New York, with his wife, Katherine.
Advertisement