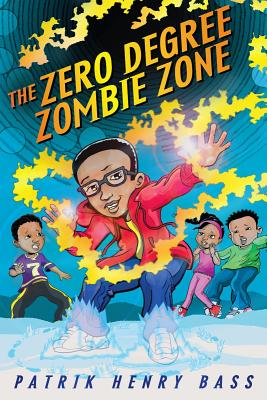 The Zero Degree Zombie Zone (Library Binding)
Scholastic Press, 9780545132107, 144pp.
Publication Date: August 26, 2014
Other Editions of This Title:
Paperback (8/26/2014)
* Individual store prices may vary.
Description
In the spirit of Tony Abbott's UNDERWORLD books, comes the new kid on the block, Barkari Katari Johnson!
With art by the Newbery Medalist of New Kid, Jerry Craft!

Shy fourth-grader Bakari Katari Johnson is having a bad day. He's always coming up against Tariq Thomas, the most popular kid in their class, and today is no different. On top of that, Bakari has found a strange ring that appears to have magical powers--and the people from the ring's fantastical other world want it back! Can Bakari and his best friend Wardell stave off the intruders' attempts, keep the ring safe, and stand up to Tariq and his pal Keisha, all before the school bell rings? Media celebrity and Essence Magazine entertainment producer, Patrik Henry Bass delivers adventure, fun, fantasy and friendship in this illustrated action-packed adventure starring an African American boy hero and his classmates.
About the Author
Patrik Henry Bass is an award-winning journalist who has appeared on numerous media outlets including MSNBC, CNN, BBC, Good Day New York, WNBC and Public Radio International's The Takeaway with John Hockenberry, where Bass is a contributor. He has written and edited for numerous publications including THE NEW YORK TIMES,THE WASHINGTON POST,ENTERTAINMENT WEEKLY, and PUBLISHERS WEEKLY. Bass, a former professor at New York University's Department of Journalism, lives in Brooklyn, NY.

Jerry Craft is the creator of MAMA'S BOYZ, an award-winning comic strip that has been distributed to almost 900 publications, making him one of the few syndicated African-American cartoonists in the country. He has illustrated and/or written a dozen children's books. His work has appeared in national publications such as ESSENCE MAGAZINE, EBONY, and two Chicken Soup for the African American Soul books. He lives in Norwalk, CT.