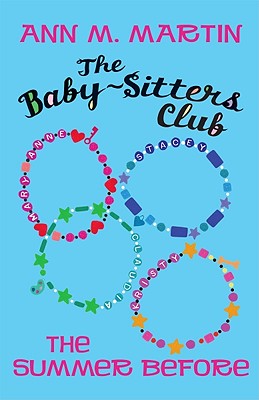 The Baby-Sitters Club
The Summer Before
Hardcover

* Individual store prices may vary.
Description
The BSC returns in this fantastic prequel from Newbery Honor author Ann M. Martin

Before there was the Baby-Sitters Club, there were four girls named Kristy Thomas, Mary Anne Spier, Claudia Kishi, and Stacey McGill. As they start the summer before seventh grade (also before they start the BSC), each of them is on the cusp of a big change. Kristy is still hung up on hoping that her father will return to her family. Mary Anne has to prove to her father that she's no longer a little girl who needs hundreds of rules. Claudia is navigating her first major crush on a boy. And Stacey is leaving her entire New York City life behind...
Scholastic Inc., 9780545160933, 224pp.
Publication Date: April 1, 2010
About the Author
Ann M. Martin's The Baby-Sitters Club series sold over 176 million copies and inspired a generation of young readers. Her novels include the Main Street series, BELLE TEAL, the Newbery Honor book A CORNER OF THE UNIVERSE, HERE TODAY, A DOG'S LIFE, and ON CHRISTMAS EVE, as well as the much-loved collaborations P.S, LONGER LETTER LATER and SNAIL MAIL NO MORE with Paula Danziger, and THE DOLL PEOPLE and THE MEANEST DOLL IN THE WORLD, written with Laura Godwin and illustrated by Brian Selznick. She lives in upstate New York.
Each of the girls, Kristy Thomas, Mary Anne Spier, Claudia Kishi, and Stacey McGill, go through big changes over the summer. Pick one of the girls and describe her character in the beginning of the book and how she changed by the end.
Mary Anne's father is very overprotective and is always checking in on her whereabouts. What are some of the reasons you think he is so strict with her?
Although dealing with their own separate issues, Kristy, Mary Anne, and Claudia are still able to support each other when one of them is in need. What are some examples of how they do this? Are you there for your friends when they need you and vice versa? Discuss a time when you gave support to a friend.
In chapter five, Stacey talks about her parents keeping her diabetes a secret and how this upsets her. Do you agree with Stacey's parents? How could telling people about her condition help Stacey?
Kristy gives her mom a hard time about dating Watson. Why do you think this is? Do you think Kristy treats him fairly?
Claudia is embarrassed and upset by Frankie's actions at the end of the book. Has a friend ever embarrassed you? How would/do you deal with it?
or
Not Currently Available for Direct Purchase