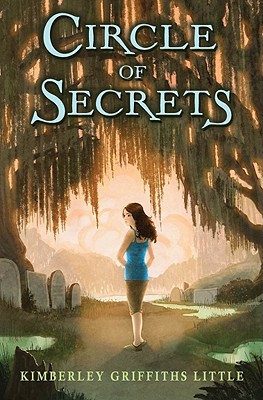 Circle of Secrets
Hardcover

* Individual store prices may vary.
Description
Critically acclaimed author Kimberley Griffiths Little weaves a haunting story of friendship and family and the power of faith, once again set against the lush backdrop of the Lousiana bayou.

After her mother walked out on Shelby Jayne and her dad, Shelby thought she'd never speak to her mamma again. But with her dad leaving the country for work, it turns out she doesn't have a choice: Shelby has to move back into her mamma's house, deep in the heart of the Louisiana bayou.

Her new classmates tease and torment her, so Shelby's relieved to finally find a friend in Gwen, a mysterious girl who lives alone on the bayou. But Shelby can't help wondering if Gwen has something to do with the puzzling messages she finds hidden in the blue bottle tree behind her house. The only person who might be able to explain is her mamma -- but Shelby's not ready to ask. Not yet. It may take a brush with something from the beyond to help Shelby see that the power to put her own ghosts to rest is within her reach.

Kimberley Griffiths Little's haunting and powerful tale brings one girl's attempt to grapple with family, friendship, and forgiveness to beautiful, vivid life.
Praise For Circle of Secrets…
Praise for THE HEALING SPELL:
"An incantational tale of Cajun magic and gators in the bayou and of the love and silence between mother and daughter." -- Richard Peck, Newbery Award-winning author of A YEAR DOWN YONDER

"Kimberley Griffiths Little's THE HEALING SPELL is an atmospheric, affecting story of hope and devotion, as elegant and mysterious as bayou country itself." -- Cynthia Leitich Smith, acclaimed author of TANTALIZE and ETERNAL

"Little explores the extremes of childhood guilt and its consequences in this harsh yet well-crafted story about fully drawn people. The bayou, with its rich culture, is an atmospheric character that overlays the story with mystery and dread. A special offering for readers seeking a challenge of the heart as well as the mind." -- BOOKLIST

"Middle school readers will find a realistic yet haunting quality to Livie's life in the bayou. While there is an exotic feel to the description of the lush green and the cool swirling water, Livie's experiences are the universal experiences of growing up to face who you are and where you fit in." -- CHILDREN'S LITERATURE

"A wonderful coming-of-age story." -- SUNDAY ADVERTISER


Gr 5-8–A story of loss, love, and forgiveness. When Shelby Jane's father is sent out of the country for his work and her Grandma Phoebe must have an operation, she is sent to live with her mama deep in the Louisiana bayou. Because Shelby, 10, believes that her mother abandoned her, the start of this mother/daughter reunion is contentious, and Shelby seems determined to maintain her distance. Mirage is a traiteur, a healer who ministers to those in need with herbal remedies, prayers, and patience. Selby's reluctance to give an inch at first makes her transition to life in the bayou that much more difficult. She can't, however, squelch her fascination with the blue bottle tree in the backyard. Mirage explains that the bottles are supposed to capture spirits and that notes are put inside to send messages from the beyond. A mysterious tone permeates this gripping story. Shelby is a believable, fully developed character, as is Mirage. When the child starts at her new school, she is drawn into a frightening truth-or-dare challenge by the in crowd, which foreshadows future eerie, terrifying developments. Her strong friendship with mysterious Gwen dovetails with her determination to understand notes she takes from the blue bottle tree and Mirage's references to painful memories she is trying to forget. Little's rich, vivid prose and characterization create an intriguing universe in which realism and mysticism intertwine as the story's secrets unravel. Fans of Little's The Healing Spell (Scholastic, 2010) and Donna Jo Napoli's Alligator Bayou (Random, 2009) will be well served by this selection.
–Renee Steinberg, formerly at Fieldstone Middle School, Montvale, NJ
School Library Journal, December 1, 2011

Scholastic Press, 9780545165617, 336pp.
Publication Date: October 1, 2011
About the Author
Kimberley Griffiths Little is the author of THE HEALING SPELL and CIRCLE OF SECRETS, as well as dozens of short stories that have appeared in numerous publications, and the novels BREAKAWAY, ENCHANTED RUNNER, and THE LAST SNAKE RUNNER. She is the winner of the Southwest Book Award. Kimberley lives near the banks of the Rio Grande in New Mexico in a solar adobe house with her husband and their three sons.
or
Not Currently Available for Direct Purchase