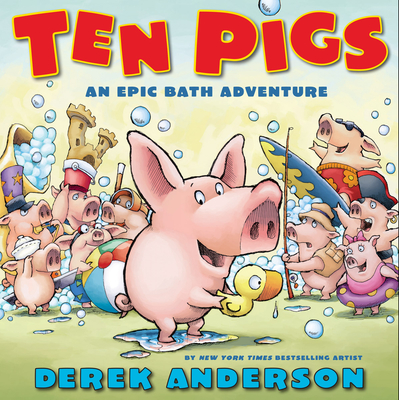 Ten Pigs
An Epic Bath Adventure: An Epic Bath Adventure
Hardcover

* Individual store prices may vary.
Description
Laugh out loud in this hysterical epic counting bath adventure with a squeaky clean twist!
From Derek Anderson, the illustrator of the bestselling Little Quack series!

One very happy pig --
one bubbly bathtub.

Everything is perfect until nine more join in!

And ten?
Ten wiggles and squeezes
And surfs his way in.

One pig looks to take a relaxing bath in solitude, only to be joined by another pig, then another, then another. When Pig Number 10 jumps into the crowded tub, the first pig comes up with a plan to enjoy his bath.
Praise For Ten Pigs: An Epic Bath Adventure: An Epic Bath Adventure…
Praise for TEN PIGS by Derek Anderson
"Anderson combines humor with simple, straightforward rhymes to successfully convey basic counting concepts. The crisp, bold illustrations rendered in ink and Photoshop are all done on bright spreads and include colorful block typeface that match the bouncy, comic tone of the text. The animated cartoon characters exude personality and add to the humor, particularly when the pigs are all featured together in the overcrowded tub. Because of its big, vivid illustrations and rhythmic, sprightly rhymes, this story is ideal for sharing with a group as a read-aloud. The ending, in which it is revealed that the wolf is actually a pig in disguise, is a clever and satisfying conclusion to this funny counting adventure. Pithy and brisk, this book is a solid choice for children learning to count and young readers looking for a good laugh." --SCHOOL LIBRARY JOURNAL

"Anderson's joyous, porcine counting rhyme is bathtime (and storytime) fun. His bright-eyed, cartoon porkers, rendered in 'ink, Photoshop and soap suds,' are expressive, goofy and engaging. Toddlers will enjoy this, the cleanest piggy count ever." --KIRKUS REVIEWS

Praise for LITTLE QUACK by Lauren Thompson and illustrated by Derek Anderson
"The charm is in Anderson's comical, eye-commanding acrylics." --BOOKLIST

"Anderson's bright and colorful illustrations are lively and captivating." --KIRKUS REVIEWS

Praise for HOT ROD HAMSTER by Cynthia Lord and illustrated by Derek Anderson
"Anderson's acrylics are boisterously large, colorful, and off-kilter." --BOOKLIST

Praise for WAKING DRAGONS by Jane Yolen and illustrated by Derek Anderson
"With cinematic framing, sculptural shapes, a strong sense of physical comedy, and a fittingly medieval palette of saturated jewel tones, Anderson (the Little Quack series) portrays his horned dragons as hulking slugabeds who morph into surprisingly nimble winged beasts." --PUBLISHERS WEEKLY
Orchard Books, 9780545168465, 40pp.
Publication Date: April 28, 2015
About the Author
Derek Anderson is the New York Times bestselling illustrator of the Little Quack series by Lauren Thompson as well as the Hot Rod Hamster series by Cynthia Lord. He is also the author and illustrator of Ten Pigs: An Epic Bath Adventure and Story County: Here We Come! He writes and paints in Minneapolis, Minnesota. Visit him online at www.derekanderson.net.