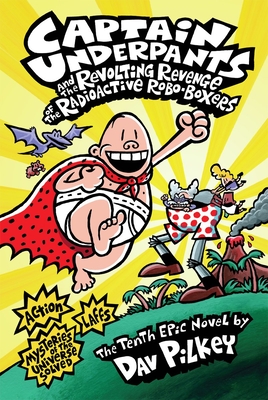 Captain Underpants and the Revolting Revenge of the Radioactive Robo-Boxers (Captain Underpants #10) (Hardcover)
Scholastic Inc., 9780545175364, 224pp.
Publication Date: January 15, 2013
* Individual store prices may vary.
Description
When we last saw our heroes, George and Harold, they had been turned into evil zombie nerds doomed to roam a devastated, postapocalyptic planet for all eternity. But why, you might ask, didn't the amazing Captain Underpants save the boys from this frightening fate? Because Tippy Tinkletrousers and his time-traveling hijinks prevented George and Harold from creating Captain Underpants in the first place! Now, having changed the course of human history forever, they'll have to figure out a way to CHANGE IT BACK!
About the Author
DAV PILKEY is the creator of many acclaimed children's books, including Dogzilla, Kat Kong, god bless the gargoyles, and the bestselling Captain Underpants series. His book The Paperboy received a Caldecott Honor. He lives in the Pacific Northwest. www.pilkey.com
DAV PILKEY is the creator of many acclaimed children's books, including Dogzilla, Kat Kong, god bless the gargoyles, and the bestselling Captain Underpants series. His book The Paperboy received a Caldecott Honor. He lives in the Pacific Northwest. www.pilkey.com
DAV PILKEY is the creator of many acclaimed children's books, including Dogzilla, Kat Kong, god bless the gargoyles, and the bestselling Captain Underpants series. His book The Paperboy received a Caldecott Honor. He lives in the Pacific Northwest. www.pilkey.com
DAV PILKEY is the creator of many acclaimed children's books, including Dogzilla, Kat Kong, god bless the gargoyles, and the bestselling Captain Underpants series. His book The Paperboy received a Caldecott Honor. He lives in the Pacific Northwest. www.pilkey.com
Praise For Captain Underpants and the Revolting Revenge of the Radioactive Robo-Boxers (Captain Underpants #10)…
The critics are CRAZY about UNDERPANTS!

"Irresistible." -- Entertainment Weekly

"Call Pilkey... the savior of the 'reluctant reader.'" -- USA Today

"So appealing that youngsters won't notice that their vocabulary is stretching." --
School Library Journal

"Pilkey's sharp humor shines, and is as much fun for parents as their young readers."
-- Parents' Choice Foundation

"Combines empowerment and empathy with age-appropriate humor and action." --
Booklist

"Celebrates the triumph of the good-hearted." -- The Educational Book and Media
Association