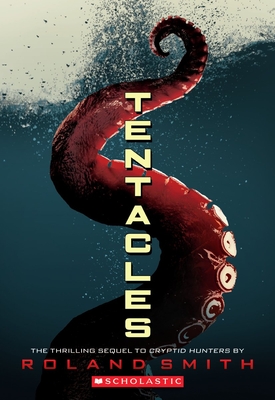 Tentacles (Paperback)
Scholastic Paperbacks, 9780545178167, 336pp.
Publication Date: February 1, 2011
* Individual store prices may vary.
Description
Roland Smith's Scholastic debut--and the sequel to his bestseller CRYPTID HUNTERS--now in paperback!

Troubled waters! Cryptids--mythological creatures like the Loch Ness monster and Sasquatch--are Travis Wolfe's obsession, and he'll travel to the ends of the earth for proof. For cousins Marty and Grace, who have lived with Wolfe ever since Marty's parents disappeared, this means adventure--and danger! Now they're all en route to the South Pacific to track down a giant squid, but the freighter they're on seems to be haunted, and someone on board is determined to sabotage their mission. Will Marty and Grace get to the bottom of this fishy business, or end up at the bottom of the sea?
About the Author
Roland Smith first worked with animals at the Portland Zoo, and he has been involved in animal rescues and conservation work around the world for more than twenty years. He is the author of numerous books for young readers, including JACK'S RUN, ZACH'S LIE, CRYPTID HUNTERS, PEAK, TENTACLES, and the Storm Runners series. He is also the co-author of numerous picture books with his wife, Marie. Roland lives with Marie on a farm south of Portland, Oregon. You can find him online at www.rolandsmith.com.