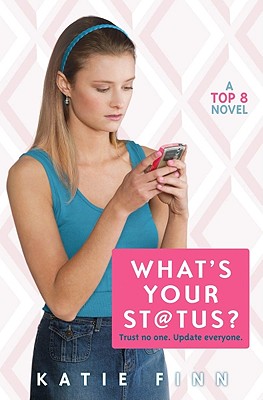 What's Your St@tus? (Paperback)
A Top 8 Novel
Point, 9780545211277, 352pp.
Publication Date: July 1, 2010
* Individual store prices may vary.
Description
This fabulous social-networking mystery, a sequel to TOP 8, is the perfect novel for the Facebook generation.
Madison MacDonald thinks things are finally working out
Followers: 300
Status Updates:
mad_mac Nate and I have been together for two months, and it's wonderful Life is good
mad_mac Well, except for the fact that I still might be failing history.
mad_mac And I no longer have a BFF.
mad_mac But aside from those things
mad_mac Okay. So, um, apparently I ve just been put in charge of the school's priceless heirloom.
mad_mac And the assistant headmaster has a vendetta against me.
About the Author
Katie Finn is the author of TOP 8, WHAT'S YOUR STATUS?, and UNFRIENDED. She lives, writes, and drinks far too much coffee in Los Angeles, California. Friend her on Facebook, follow her on Twitter, and say hi online at www.katiefinn.com.
or
Not Currently Available for Direct Purchase