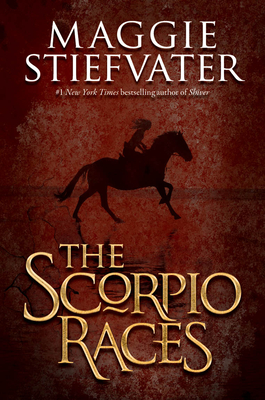 The Scorpio Races (Hardcover)
Scholastic Press, 9780545224901, 416pp.
Publication Date: October 18, 2011
Other Editions of This Title:
Digital Audiobook (10/17/2011)
Paperback (4/1/2013)
CD-Audio (10/18/2011)
CD-Audio (10/18/2011)
Prebound (4/1/2013)
* Individual store prices may vary.
Description
Some race to win. Others race to survive.

It happens at the start of every November: the Scorpio Races. Riders attempt to keep hold of their water horses long enough to make it to the finish line.
Some riders live.
Others die.
At age nineteen, Sean Kendrick is the returning champion. He is a young man of few words, and if he has any fears, he keeps them buried deep, where no one else can see them.
Puck Connolly is different. She never meant to ride in the Scorpio Races. But fate hasn't given her much of a choice. So she enters the competition - the first girl ever to do so. She is in no way prepared for what is going to happen.
As she did in her bestselling Shiver trilogy, author Maggie Stiefvater takes us to the breaking point, where both love and life meet their greatest obstacles, and only the strong of heart can survive. The Scorpio Races is an unforgettable reading experience.
About the Author
Maggie Stiefvater is the #1 New York Times bestselling author of the novels Shiver, Linger, Forever, and Sinner. Her novel The Scorpio Races was named a Michael L. Printz Honor Book by the American Library Association. The first book in The Raven Cycle, The Raven Boys, was a Publishers Weekly Best Book of the Year and the second book, The Dream Thieves, was an ALA Best Book for Young Adults. She is also an artist and musician. She lives in Virginia with her husband and their two children. You can visit her online at www.maggiestiefvater.com.
Praise For The Scorpio Races…
Praise for The Scorpio Races:
* "Masterful. Like nothing else out there now." – Kirkus Reviews, starred review
* "Stiefvater's novel begins rivetingly and gets better and better…all the way, in fact, to best." – The Horn Book, starred review
* "A book appealing to lovers of fantasy, horse stories, romance, and action-adventure
alike, this seems to have a shot at being a YA blockbuster." – Booklist, starred review
* "An utterly compelling read." – Publishers Weekly, starred review


Praise for Shiver:

#1 New York Times Bestseller

USA Today Bestseller

* "A lyrical tale of alienated werewolves and first love….Stiefvater skillfully increases the tension throughout; her take on werewolves is interesting and original while her characters are refreshingly willing to use their brains to deal with the challenges they face." – Publishers Weekly, starred review

"This is the most romantic werewolf book you will ever read." – Justine magazine

"This novel is perfect for Twilight fans or a Romeo and Juliet list. It is sensuous, intense, riveting, and so very satisfying." – VOYA

"Readers will be able to enjoy Stiefvater's fast-paced storytelling and dedication to the old-fashioned art of creating a believable and enduring romance. Shiver is beautifully written, even poetic at times, and a perfect indulgence for readers of all ages." – Bookpage.com

Praise for Linger:

#1 New York Times Bestseller

USA Today Bestseller

"This sequel's poetic prose skillfully captures the four teens' longings for love, forgetting, remembering, righting wrongs and life itself. The riveting ending will leave readers panting for the next sequel." – Kirkus Reviews

"This riveting narrative, impossible to put down, is not only an excellent addition to the current fangs and fur craze, but is also a beautifully written romance that, along with Shiver, will have teens clamoring for the third and final entry." – VOYA

"Leaves readers hanging in anticipation for the next installment." - Booklist

* "[A] taut, chilling, romantic adventure....Masterful. Like nothing else out there now." – Kirkus Reviews, starred review
* "Stiefvater masterfully combines an intimate voice (think I Capture the Castle) with a fully evoked island setting with sensory-rich language (think Margo Lanagan) with a wealth of horse detail with a plot full of danger, intrigue, and romance. ... Stiefvater sets not one foot wrong as she takes readers on an intoxicating ride of their own. ... Stiefvater's novel begins rivetingly and gets better and better…all the way, in fact, to best." – The Horn Book, starred review
* "A book appealing to lovers of fantasy, horse stories, romance, and action-adventure alike, this seems to have a shot at being a YA blockbuster." – Booklist, starred review

* "An utterly compelling read." – Publishers Weekly, starred review

"[A] thrilling book that's as unusual as it is alluring." — The Los Angeles Times

* "While there is plenty of action, conflict, excitement, and a heart-stopping climax, it is the slowly developing relationship between Kate and Sean that makes the book remarkable." — School Library Journal, starred review
"In her most addictive story yet, Stiefvater revives the strong, silent type in sexy, brooding monster tamer Sean Kendrick. His co-narrator, Puck, is heartbreakingly adorable as a stubborn little sister growing into a brave, self-assured woman. Stiefvater is a master of magical realism, and her prose leaves the reader cold, damp and anxious as November closes in on the isolated island setting." — RT Book Reviews Magazine