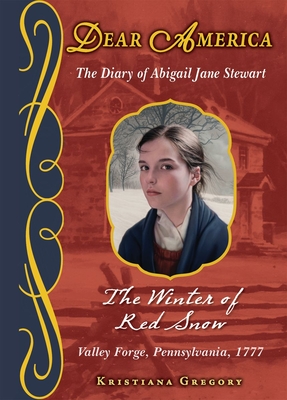 The Winter of Red Snow (Dear America) (Hardcover)
Scholastic Press, 9780545238021, 192pp.
Publication Date: September 1, 2010
Other Editions of This Title:
Hardcover (9/1/1996)
Analog Audio Cassette (4/1/2005)
Pre-Recorded Audio Player (3/1/2010)
* Individual store prices may vary.
Description
Critically acclaimed author Kristiana Gregory's award-winning THE WINTER OF RED SNOW is now back in print with a gorgeous new package!
Eleven-year-old Abigail Jane Stewart's fictionalized diary about her life, family, friends, and neighbors, and the sides they have to choose in Valley Forge, Pennsylvania, during the height of the Revolutionary War, renders a vivid portrayal of one of the most memorable and crucial winters in American history.

Abby's life with her family is quickly upended when they are awakened by the unfamiliar sound of drums. General George Washington is leading the Continental soldiers into their winter encampment at Valley Forge, PA.
About the Author
Kristiana Gregory is the bestselling author of many Dear America titles, including THE WINTER OF RED SNOW and its follow-up, CANNONS AT DAWN; ACROSS THE WIDE AND LONESOME PRAIRIE; and SEEDS OF HOPE. She has also written the Cabin Creek Mysteries, which are based on bedtime stories she told her sons when they were young and restless. Kristiana lives in Boise, Idaho. Visit her online at www.kgregorybooks.com.
Praise For The Winter of Red Snow (Dear America)…
Praise for Dear America

"More than a supplement to classroom textbooks, this series is an imaginative, solid entre into American history." -Publishers Weekly

"An impressive series that will challenge students to make connections from prominent historical events to relevant life situations.... A wonderful asset to the classroom as well as to home libraries." -Children's Book Review Service

"Engaging, accessible historical fiction." -SLJ

"The Dear America diaries represent the best of historical fiction for any age." -Chicago Tribune
Based on Abigail's diary entries about George Washington, what words would you use to describe him?
Abigail has sympathy for the American soldiers suffering at Valley Forge. She also mentions several times that she dislikes the Army and wants them to leave Valley Forge. What are some of the things the Army did that Abigail disliked?
Martha Washington is an important character in The Winter of Red Snow. What kind of person was she? Explain.
Why do you think Lucy sold her hair when she and Abigail visited Philadelphia? Why does Lucy eventually run away from her parents?
The author of The Winter of Red Snow, Kristiana Gregory, put in lots of details about life in Valley Forge in 1777 and 1778, from powdering wigs to making cakes with forty eggs. What are two or three things you discovered about life in the late 1770s?
Why was there a celebration at General Washington's headquarters when it was announced that France formed an alliance with the Americans to fight the British?
In her diary, Abigail often mentions birth and death. Why do you think she focuses on these issues so often?